Wwe Tickets
No Buyer Fees Wwe Tickets - Up to 30% Off Compared to Competitors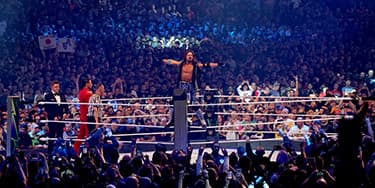 Location:
Select Location (e.g, New York)
About WWE
WWE and Endeavor Group are set to merge in a $9.3 billion deal, forming a new publicly listed company that will house both WWE and UFC. Under the agreement, UFC and WWE will also contribute cash to the new company, which will hold nearly $150 million. Endeavor CEO Ari Emanuel and Vince McMahon, executive chairman at WWE, will lead the new business. Existing WWE shareholders will hold a 49% stake, while Endeavor will own a 51% controlling interest. The enterprise value of UFC is estimated at $12.1 billion and WWE at $9.3 billion. The merger is expected to close in the second half of the year.
The new company will create a $21
WWE History
WWE, or World Wrestling Entertainment, is one of the most well-known entertainment companies in the world. It has a rich history dating back to the 1950s when it was known as the Capitol Wrestling Corporation. Today, WWE is a global brand that produces live events, television shows, and merchandise that is enjoyed by millions of fans around the world.
WWE's popularity has grown over the years, with its high-energy shows and larger-than-life characters captivating audiences of all ages. The company's live events are a major draw for fans, with tickets selling out quickly for events in cities across the globe. The excitement of attending a WWE event is hard to match, with each show featuring thrilling matches, jaw-dropping stunts, and explosive moments that will leave fans on the edge of their seats.
The history of WWE is a fascinating one, with many twists and turns along the way. Originally founded by promoters Vince McMahon Sr. and Toots Mondt in the 1950s, the company was then known as the Capitol Wrestling Corporation. It wasn't until the 1980s, when McMahon's son, Vince Jr., took over the company that it began to gain widespread popularity.
Vince Jr. was a visionary who saw the potential of WWE as a global brand. Under his leadership, the company transformed from a regional wrestling promotion into a global entertainment company, with a roster of larger-than-life wrestlers who became household names. Wrestlers such as Hulk Hogan, "Stone Cold" Steve Austin, and Dwayne "The Rock" Johnson became superstars, with their matches drawing massive crowds and generating millions of dollars in revenue.
Today, WWE is the largest wrestling promotion in the world, with its shows broadcast in over 180 countries and translated into more than 25 languages. Its flagship weekly television shows, Raw and SmackDown, have been running for over two decades and continue to draw huge ratings. The company also produces pay-per-view events, such as WrestleMania, which are among the most-watched events on television each year.
For fans, attending a WWE live event is the ultimate experience. The atmosphere is electric, with fans cheering on their favorite wrestlers and booing their opponents. WWE events are also known for their elaborate production values, with pyrotechnics, lasers, and flashy costumes adding to the spectacle.
Tickets for WWE events are highly sought after, with fans often queuing for hours to secure their seats. The company offers a range of ticket options, from standard seats to VIP packages that include meet-and-greet sessions with wrestlers. Fans can also purchase merchandise such as t-shirts, hats, and action figures, which are hugely popular among wrestling fans of all ages.
In conclusion, WWE is a cultural phenomenon with a rich history dating back over half a century. The company's live events are among the most exciting and exhilarating experiences in sports entertainment, with fans flocking to arenas around the world to witness the action up close. With its larger-than-life wrestlers, spectacular production values, and passionate fanbase, WWE is a global brand that shows no signs of slowing down.