The Band Camino Tickets
No Buyer Fees The Band Camino Tickets - Up to 30% Off Compared to Competitors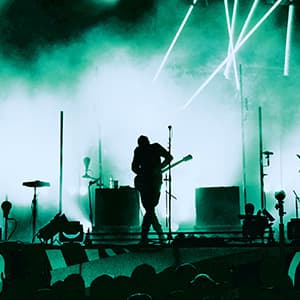 Location:
Select Location (e.g, New York)
All The Band Camino Events
The Band Camino Cities & Venues
About The Band Camino
The Band Camino is an American indie-pop and alternative rock band known for their electrifying live performances and contagious energy. Their live sets often include some of their most popular songs, which fans eagerly anticipate when purchasing tickets for their events. Combining a driving rock core with catchy pop anthems and heart-tugging ballads, The Band Camino knows how to create a resonating live music experience.
One of the band's most popular live songs is their hit single, "Daphne Blue." This song features soaring power pop melodies and emotive lyrics that stir up the crowd, pushing the energy higher every moment. The band's passionate performance of this song always elicits strong reactions from the crowd. At live shows, it's not uncommon to see the entire audience singing along in fervent unison, creating a unique communal experience that's not easily replicated elsewhere.
"See Through" is another fan-favorite that The Band Camino often includes in their live setlist. This melancholic ballad has a raw, emotional honesty that's amplified in a live setting. The band's stirring performance carries the audience through waves of nostalgia and longing. Fans often wait for the delivery of this song, and the moment it starts playing, the atmosphere shifts to something more poignant and striking.
"2/14" is a track that's guaranteed to get the crowd moving. Seen as an anthem for Valentine's Day heartbreak, it's a song that's carried by a pulsating rhythm and an undeniably catchy chorus. Those who purchase tickets for The Band Camino's live events can look forward to dancing and singing along to this infectious tune. Even those unfamiliar with the song can't help but get swept up in the energy it creates.
"Honest' is another song that's become a staple in The Band Camino's live performances. An emotive track about relationships, its heartfelt lyrics resonate with many listeners. Live, the band puts their all into the song, enhancing its emotional impact. The audience can't help but sway and sing along with the band.
"Know Me" is a lesser-known track off of their debut EP, but it's a standout in their live performances. Featuring a powerful, anthemic chorus and introspective lyrics, it showcases the band's ability to craft tracks that still hit hard years after their release. The crowd always anticipates its performance at shows.
Finally, "My Thoughts on You" is a track that's often saved for the climactic part of their set. With its intricate guitar work, striking lyrics, and rhythmic drive, it's a track that always stands out at live shows. It's become a crowd favorite, with fans often singing along to every word.
In summary, these are some of the most popular songs by The Band Camino. Each one contributes to the band's dynamic live performances, making their concerts a must-see for any fan of indie-pop and alternative rock. Fans purchasing tickets for their live events can look forward to a night full of energy, emotion, and infectious music. With every live event, The Band Camino continues to prove why they're one of the most exciting bands to watch, both in the studio and on the stage.
The Band Camino History
The Band Camino, a four-piece indie rock band from Memphis, Tennessee, has been steadily gaining a growing fan base and prominence in the music industry with their exhilarating live performances and evocative lyrics. Their exciting journey has revolved significantly around live concert events, showcasing their evolving artistry and the unforgettable experiences they provide to their fans.
The band was formed in 2015 by lead vocalist Jeffery Jordan, and guitarists Spencer Stewart and Graham Rowell, while drummer Garrison Burgess joined them later. Their name "Camino" refers to the Spanish word for road or path, highlighting their journey together as a band. The early years of their musical adventure marked several EP releases, including 'My Thoughts on You' and 'Heaven', echoing heartfelt anthems that connected with the listeners on a deeper level.
Despite not having a full-length album to their name initially, The Band Camino started to fill venues quickly. They provided an electrifying stage presence that instantly connected with the audience. Their live concert experiences encompass the power of their lyrical genius, intense rock sound, and strong emotive performances. They have been known for delivering performances that leave their fans in awe, resulting in a growing demand for their concert tickets.
The Band Camino's live performances allowed them to showcase their musicality and stage charisma, leading to their breakthrough. They started gaining industry recognition, leading to them being signed by Elektra Records in 2019. That same year, they embarked on their very first headlining tour, selling out shows in several cities across North America. Fans were captivated by their high-energy performances, which often extended beyond setlists, displaying their utmost dedication and love for their craft. The experience of The Band Camino concert is often described as immersive, with the band's energetic, emotion-packed performances and the crowd's enthusiastic response creating a unique bond and an unforgettable atmosphere.
The band's first full-length album, "Tryhard", was released in 2019. The ticket sales for their album tour skyrocketed as fans eagerly anticipated the live performances of the new tracks. The Tryhard tour was met with overwhelming success, reinforcing their reputation as a must-see live act. The authenticity and emotive depth they bring to their live shows, combined with their powerhouse rock sound, keep the audience hooked and wanting more.
In 2021, after touring with Dan + Shay, The Band Camino announced their co-headlining tour with NEEDTOBREATHE, promising fans a set of live shows that will once again demonstrate their magnetic performances and strong connection with the audience. Ticket sales surged as fans geared up to witness yet another memorable stage spectacle from the band.
From their humble beginnings to their current stardom, The Band Camino has proven their fortitude and talent on the music scene. Their live concert events have played a significant role in their growing fame and success, proving that a The Band Camino ticket is not just a pass to a show, but a gateway to an unforgettable musical experience. As the band continues their journey, fans await the unique blend of powerful performances, raw emotion, and catchy melodies that make every event featuring The Band Camino a memorable one.