Pbr Professional Bull Riders Tickets
No Buyer Fees Pbr Professional Bull Riders Tickets - Up to 30% Off Compared to Competitors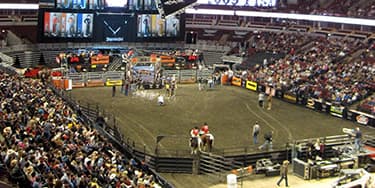 Location:
Select Location (e.g, New York)
About PBR - Professional Bull Riders
Professional Bull Riders (PBR) is a premier bull riding circuit that promises fierce competition and thrilling performances, all of which culminate into a breathtaking live spectacle. PBR events have been drawing massive crowds in recent years, with each event filled with heart-stopping action that keeps fans on the edge of their seats. Watching this live sports event unfold is an unparalleled experience and a must-see for any fan of adrenaline-pumping action.
The 2021 season of PBR has been nothing short of remarkable, filled with unforgettable moments and stunning highlights. The PBR Unleash The Beast Tour, the highest level of professional bull riding, has been a cornerstone event, providing plenty of thrilling action.
One of the standout performances of the season was delivered by Jose Vitor Leme. The Brazilian rider has been a force to reckon with, showcasing raw talent and skill in every competition he has entered. His crown achievement came at the PBR World Finals in November 2021, where he became the PBR World Champion for the second consecutive year. It was a performance filled with finesse, proving once again why Leme is one of the best riders in the world.
Another standout moment was when Cooper Davis won the Mossy Oak Mudslinger Madness in Nashville. He conquered one of the toughest bulls in the circuit, Chiseled, securing 91.5 points, the highest score of the night. This victory was a combination of brute strength, agility, and perfect timing that echoed throughout the entire arena.
Also, the performance of the bulls in 2021 was certainly noteworthy. The bulls - with names as impressive as their prowess like Woopaa, Chiseled, and Marquis Metal Works Coriolis - were equally part of the spectacle. Their raw power and unpredictable behavior further intensified the competition, throwing even the most seasoned riders off their game.
PBR events are not merely about bull riding; they are also a celebration of the cowboy culture. Between the rides, fans enjoy the vibrant atmosphere with live music, food stalls, and fun activities for all ages. This guaranteed entertainment further adds to the charm of these events and the reason why it is a big hit with live audiences.
When it comes to experiencing PBR live, the availability of tickets has been made simple and user-friendly. Fans can purchase their tickets directly from the PBR website or through trusted online ticketing platforms. These tickets often sell like hotcakes, so fans are always advised to keep an eye out for the ticket release dates.
In conclusion, the experience of watching PBR live is electrifying. The entire arena is filled with an air of anticipation and excitement that's hard to match. The combo of world-class athletes, powerful bulls, combined with an electric event atmosphere makes for an unforgettable experience. Whether you're a long-time fan or a first-time viewer, the Professional Bull Riders circuit guarantees to give you a night filled with adrenaline, thrills, and epic performances.
PBR - Professional Bull Riders History
Founded in 1992, the Professional Bull Riders (PBR) association has grown exponentially from its humble roots to become a globally recognized phenomenon. Now broadcast in over 40 countries worldwide, PBR competitions draw millions of viewers and have put professional bull riding on the map both as a sport and as a thrilling live event.
PBR was initially started by 20 men with a dream and the courage to invest $1,000 each to bring professional bull riding to a larger audience. Among them were legends of the sport like Ty Murray, Jim Sharp, and Cody Lambert. Before PBR, bull riding was just one of the multiple events at a typical rodeo. But these men saw potential in their adrenaline-fueled sport. They believed bull riding had the exciting, dangerous allure that could captivate audiences and stand on its own.
Fast forward to today, PBR features over 1,200 registered riders from the U.S., Australia, Brazil, Canada, and Mexico. The association hosts over 300 events annually across the globe. The highlight of the PBR calendar is the World Finals, held in Las Vegas. Here, the top 35 riders compete for the title of World Champion and a $1 million bonus.
PBR events are not just about the bull riding. They offer a unique blend of high-energy entertainment that keeps fans on the edge of their seats. From pyrotechnics to rock concerts to rider meet-and-greets, these events are a full-blown spectacle.
Buying a ticket to a live PBR bull riding event can promise an unmatched experience. The incredible atmosphere created by the energy of the crowd, the breathtaking danger of the sport, and the high-caliber performances are unparalleled. Fans can choose from a variety of seating options, from VIP experiences complete with behind-the-scenes tours and rider meet and greets to affordable general admission tickets.
The heart-stopping rush of seeing eight-second rides and jaw-dropping wrecks up close is uniquely exhilarating. Passionate fans fill arenas to cheer on their favorite riders and marvel at the power and agility of the massive bulls. The riders, too, feed off the energy of the crowd, often pulling off incredible feats of bravery and athleticism that need to be seen to be believed.
The success of PBR is a testament to its founders' vision of taking the most thrilling aspect of traditional rodeo and transforming it into a standalone event. As it continues to grow, more and more people worldwide are discovering the thrill, energy, and sheer entertainment value of attending a live PBR event.
In conclusion, the Professional Bull Riders association has succeeded in transforming the sport of bull riding into a globally recognized event that draws significant attention and interest. It has established itself as a must-see spectacle that promises high-adrenaline excitement and pure entertainment. Whether you're a long-time fan of the sport or a curious newcomer, securing a ticket to a live PBR event guarantees a thrilling experience you won't forget.