La Boheme Tickets
No Buyer Fees La Boheme Tickets - Up to 30% Off Compared to Competitors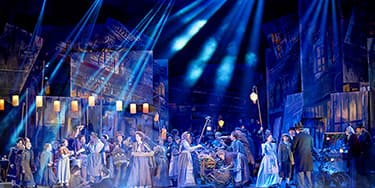 Location:
Select Location (e.g, New York)
About La Boheme
La Boheme, penned by the legendary composer Giacomo Puccini, is one of the most loved operas in the world. The opera has been captivating audiences globally for over a century, its masterful score, compelling storyline, and brilliant performances making it a must-see event. The live performance of La Boheme holds a magic that simply can't be replicated in recordings. Witnessing the power, height, and resonance of the vocals firsthand is an experience in itself.
One of the most popular songs from La Boheme is "Che Gelida Manina," a beautiful aria performed in the first act by the lead tenor, who is portraying Rodolfo. The song's title translates to "Your tiny hand is frozen," which Rodolfo sings to Mimì when they first meet. It's a touching moment, relayed with breathtaking effect in live performances. The feeling of emotional rupture when Rodolfo hits the climactic high C in the aria is just mesmerizing, and no recorded version could ever fully capture this experience.
"Quando M'en Vo," also known as "Musetta's Waltz", is another fan favorite. This song, performed by Musetta, is a flirtatious, lively waltz that contrasts sharply with the other songs' emotional and often dramatic tone. This song's appeal in a live event is partly due to the artist's ability to express their character fully, expressing a lively, provocative charm that can have a delightful effect on audiences.
A third popular song, "O Soave Fanciulla," is a duet between Mimi and Rodolfo at the end of Act I. In this scene, the couple express their love for each other, their voices intertwined in a sublime harmony that leaves audiences spellbound. The climactic endnote, where both singers hit a high C, is a breathtaking moment in live performances.
The heartfelt song "Donde Lieta Usci," sung by Mimi in Act III, is a touching farewell to Rodolfo. The heartbreaking lyrics and powerful vocal delivery make it a firm favorite amongst opera fans. The raw emotion exhibited by the soprano on stage genuinely resonates with live audiences, creating a shared experience of the character's sorrow.
Watching La Boheme live is a unique, emotional experience. The singers' performances give life and depth to Puccini's music and the characters' stories. Puccini's ability to evoke emotions through his music is amplified in live performances, where audiences can truly perceive and appreciate the performers' talent and skill.
Given the popularity of these songs and the opera, tickets for La Boheme are always in high demand. From the grand opera houses of Europe to the high-profile stages of Broadway and the Sydney Opera House, La Boheme repeatedly sells out. Therefore, for those looking to experience the magic of this opera live, it is vital to keep an eye on ticket sales and book in advance.
Attending a live performance of La Boheme is more than just an evening at the opera; it's a captivating, emotional journey, and a testament to the power of music. Whether you're an opera aficionado or a novice looking to explore the genre, La Boheme and its most popular songs are sure to leave an indelible impression.
La Boheme History
La Bohème, a gift to the world of opera and live theater, is an unparalleled masterpiece by the eminent Italian composer, Giacomo Puccini. The opera, a love story set amidst the backdrop of Paris in the 19th century, was first performed at the Teatro Regio in Turin, helmed by the conductor Arturo Toscanini, in 1896. The performance's success set the stage for La Bohème to be one of the most frequently staged operas globally, greatly influencing the genre's landscape.
La Bohème's narrative captures the lives of four young bohemians navigating love, loss, art, and hardships in the Latin quarter of Paris. The love story between the poet Rodolfo and the seamstress Mimi is beautifully paired with the more volatile relationship between Marcello, a painter, and Musetta. The opera, distinctly divided into four acts, masterfully marries music and emotive storytelling to immerse the audience in their captivating world.
The influence of La Bohème has not faltered over the years. It became a go-to performance for various theater companies, proving a draw card for audiences worldwide. As a result, tickets for these performances have always been highly sought after.
Throughout the past century, La Bohème has been performed in some of the world's most renowned opera houses, including the Royal Opera House in London, the Metropolitan Opera in New York, and La Scala in Milan. These historic performances have witnessed legendary artists like Luciano Pavarotti, Maria Callas, and Placido Domingo in leading roles, adding more layers to La Bohème's rich history.
The opera's popularity led to an innovative adaptation, "Rent," a rock musical conceived by Jonathan Larson. Premiering in 1996, "Rent" made a significant impact through its groundbreaking depiction of diverse characters dealing with real-world issues, much like La Bohème. It showcased live theater's transformative power, thus increasing interest in the compelling world of opera and theater.
Getting tickets for a live performance of La Bohème has always been a coveted achievement. The thrill of experiencing this monumental opera in a live setting is unmatched. Whether it's the anticipation as the lights dim before the curtain rises, the rousing orchestral performances, or the raw emotions delivered by the performers, attending a live event of La Bohème is a profound cultural experience.
With the growth of online ticket purchasing platforms, obtaining tickets for La Bohème has become more accessible. Many theater companies offer a season's subscription, which often includes early access to ticket purchases for highly anticipated performances such as La Bohème.
From its inception, La Bohème has been a significant player in the dynamic world of live theater. Its performances have consistently been a sought-after event, and tickets are seemingly always in high demand. This opera's unique blend of mesmerizing music, compelling narrative, and raw emotion has made it a timeless classic in the world of performing arts. Regardless of advancements in technology and shifts in cultural trends, the allure of live theater, especially emblems like La Bohème, remains unwavering.