Lauryn Hill Tickets
No Buyer Fees Lauryn Hill Tickets - Up to 30% Off Compared to Competitors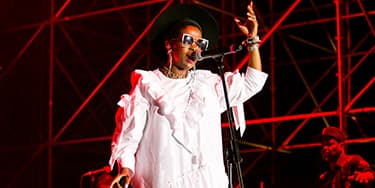 Location:
Select Location (e.g, New York)
Lauryn Hill
is not currently performing
About Lauryn Hill
Lauryn Hill, a critically acclaimed singer, songwriter, and rapper, is renowned for her exceptional talent in live performances. Her unique blend of soul, R&B, and hip-hop resonates powerfully during her live shows, garnering her a loyal fan base eager to purchase tickets to experience these memorable events.
Arguably, one of Hill's most popular live songs is the electrifying "Doo Wop (That Thing)" from her solo debut album, "The Miseducation of Lauryn Hill." This song is an auditory display of Hill's vocal prowess and lyrical genius. The crowd's anticipation when she performs this iconic track live is palpable, making it a coveted event ticket. Her vocal delivery, backed by the impeccable arrangement of the band, is a testament to her stellar musicianship, and a live rendition of "Doo Wop (That Thing)" is a quintessential Lauryn Hill experience.
Another top live performance is the emotional rendition of "Ex-Factor," a song that carries an immense emotional weight. Fans flock to her concerts to see this track performed live, as Hill's raw vulnerability and emotive delivery make it a sublime experience. The depth of pain and longing that she pours into each word is palpable, and to witness it live is undoubtedly a moving experience, making it a strong selling point for her concert tickets.
One more iconic live song is "To Zion," named for her firstborn son. During live performances, Hill's powerful voice and emotional connection to the song create a truly magical experience for fans. There's a unique intimacy that she maintains in her live shows, which has made her a highly sought-after live act and keeps her ticket demand high.
Hill's performances of her Fugees hits like "Killing Me Softly" and "Ready or Not" are also highly anticipated, as they remind fans of her roots in the influential hip-hop group. The raw and potent rendition of these classics during her live shows often leaves audiences captivated, seeking more opportunities to relive these nostalgic moments.
Moreover, Hill's live cover of "Can't Take My Eyes Off You" is a fan favorite, showcasing her incredible vocal range and unique take on the beloved classic. This performance is a testament to her versatility as an artist and a highlight of her live shows.
A Lauryn Hill concert is never just about the music, but equally about the experience. Her powerful performances coupled with thought-provoking stage designs and visuals make her shows an immersive experience that fans are willing to pay premium prices for. Each song she performs is treated as an individual story, presented with an intensity that only enhances its impact on listeners.
In conclusion, Lauryn Hill's live performances are a sonic and visual treat for fans, featuring popular songs that showcase her impressive vocal talent, lyrical acuity, and emotive performances. Her live renditions of tracks like "Doo Wop (That Thing)," "Ex-Factor," "To Zion," Fugees classics, and covers like "Can't Take My Eyes Off You" are the main draw for fans, making her live events high-demand ticketed experiences. Her live performances are not just concerts, but deeply intimate, enlightening, and transformative experiences, making each ticket worth every penny.
Lauryn Hill History
Lauryn Hill, a name that resonates strongly in the music industry, is an acclaimed singer, songwriter, rapper, and actress who has carved an impactful niche for herself. Born on May 26, 1975, Hill hails from East Orange, New Jersey. Her musical journey is an illustrious one included with heart-touching live performances that have created memorable experiences for fans across the globe. Hill's concerts are renowned for their unique mix of emotion, passion, and musical talent, making them a hot attraction for tickets among music lovers.
Hill initially rose to global prominence as the leading member of the Fugees, an American hip hop group in the mid-1990s. Their 1996 album, "The Score," became a multi-platinum and Grammy-winning success, catapulting Hill into the limelight and paving her path towards a solo career. In 1998, Hill released her debut solo album "The Miseducation of Lauryn Hill," which swept the 41st Grammy Awards, winning five of them, including Album of the Year. This album is still hailed as a groundbreaking work in the music industry with its blend of R&B, rap, reggae, and soul.
Hill's live concerts are known for their mesmerizing energy. Her ability to connect organically with the audience and deliver performances packed with raw emotion contribute heavily to the high demand for her concert tickets. Her combination of charismatic stage presence, powerful vocals, and profound lyrics indeed presents a once-in-a-lifetime experience for the attendees.
One of the most iconic live performances by Hill was at the New York's MTV Unplugged No. 2.0 in 2001. The live album recorded there was noted for its deviation from her previous works, focusing more on soulful folk and introspective lyrics. Despite initial mixed reviews, it has since been hailed as an ahead-of-its-time classic.
However, Hill's performances and concerts have often been met with criticism for their unpredictability. She has become known for frequently arriving late to concerts, and sometimes presenting radically rearranged versions of her most famous songs that leave them almost unrecognizable. Nevertheless, the true essence of her music lies in its evolution, making each of her live performances distinct and special in their own way.
Despite the controversies, Hill's concerts remain highly awaited events. The tickets to her performances are usually sold out in no time, pointing to her enduring popularity. Her 2018 tour celebrating 20 years of 'Miseducation' was a significant event in her career. The tour was a massive success, with fans from around the world gathering to witness Hill's breathtaking performance, thus reaffirming her status as a musical titan.
In conclusion, Lauryn Hill's concerts are not just musical events, they are a melange of life experiences expressed through her art. Each ticket to her concert guarantees an experience that transcends beyond music, engaging directly with the audience's emotions. One thing's for certain, a Lauryn Hill concert is more than worth the price of admission, promising a unique spectacle that blends musical talent, emotional rawness, and an unforgettable atmosphere. Despite her slightly tumultuous history with live performances, Hill's concerts remain in high demand, proving that her impact on the music industry is indelible.