Jonas Brothers Tickets
No Buyer Fees Jonas Brothers Tickets - Up to 30% Off Compared to Competitors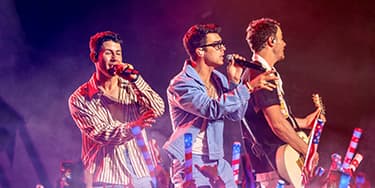 Location:
Select Location (e.g, New York)
Jonas Brothers
is not currently performing
About Jonas Brothers
The Jonas Brothers, made up of siblings Kevin, Joe, and Nick Jonas, have been a prevalent force in pop music since their breakthrough in 2007. Known for their dynamic performances, they've built a solid reputation for their live shows. Fans from around the world flock to ticket websites whenever the group announces a tour, eager to secure a seat to witness the Jonas Brothers perform their greatest hits and create unforgettable moments.
One of the group's most popular live songs is "Sucker," which marked their return to the music scene in 2019 after a six-year hiatus. This comeback single rapidly climbed the charts to become a number-one hit. In live performances, the band's energy is contagious, turning every venue into a massive dance party. The vibrant sounds of the song combined with their charisma and captivating stage presence make every ticket worth it.
"Burnin' Up" is another fan favorite due to its energetic beats and infectious chorus. A throwback to their earlier days, this song always ignites excitement in the audience. The guitar riff that Kevin delivers, Joe's intense vocals, and Nick's smooth harmonies create a thrilling atmosphere during live performances. Seeing the Jonas Brothers perform "Burnin' Up" live is a nostalgic journey many fans pay top dollar to experience.
When it comes to bringing the emotion, "When You Look Me in the Eyes" stands as a classic Jonas Brothers ballad. The song, noted for its touching lyrics and soothing melody, tends to elicit a tear or two from fans during concerts. The intimate moments created while this song is performed are part of what makes their live events so special.
Apart from their own discography, the Brother's aren't shy of performing covers during their live shows, often including pop classics such as "Year 3000" originally by Busted. It has become a tradition for the brothers to perform this song, making it a much-anticipated moment.
Their latest tour, "Happiness Begins," was a massive success, with live renditions of newer songs like "Cool" and "Only Human" joining the ranks of their most popular live songs. Fans who managed to score tickets had the chance to see the evolution of the band, witnessing how they've maintained their signature energy while maturing their sound.
Whether it's their earlier hits or newer tracks, the Jonas Brothers have proven they can transfer the energy and emotion from their recorded music to the live stage impeccably. Their shows are more than just concerts; they are full-fledged experiences filled with nostalgia and feel-good moments.
The Jonas Brothers have always made a point of rewarding their fans' loyalty with memorable live performances. Each song they deliver is performed with passion and a palpable connection to the crowd, making every concert ticket a key to an unforgettable experience. And as they continue to produce more music, fans can expect the list of popular live songs to grow, offering even more reasons to attend the brothers' concerts. The Jonas Brothers have solidified their place in the pop music scene, and their live performances are a testament to their enduring appeal.
Jonas Brothers History
The Jonas Brothers are an iconic staple in pop culture history, best known for their captivating live concerts and the frenzied fans that anxiously await ticket releases. Composed of three siblings, Kevin, Joe, and Nick Jonas, the group initially formed in 2005, quickly creating a buzz in the music industry.
Their first two albums, "It's About Time" (2006) and the self-titled "Jonas Brothers" (2007) had them touring across the U.S., playing in sold-out venues and giving their fans unforgettable memories. Both concerts and the tickets sold were indicative of their initial success; their energy, tight harmonies, and pop hooks had audiences captivated and coming back for more.
In 2008, the band released the platinum-selling album "A Little Bit Longer," which featured the infectious hit single "Burnin' Up." This was followed by a highly successful world tour. Fans lined up for hours, sometimes even days, to get their hands on Jonas Brothers' concert tickets, further proving their popularity.
The Jonas Brothers' concerts were more than just music; they were an experience. The trio had a knack for creating an immersive environment where their fandom could sing, dance, and connect with the brothers and their music. The elaborate staging, along with energetic light and video shows, contributed to the hype and excitement surrounding their live shows.
Despite their success, at the end of 2013, the band decided to split to pursue individual projects. This came as a surprise to many fans who loved their group dynamics.
However, their hiatus didn't last forever. In February 2019, much to the delight of their fans, the Jonas Brothers announced they were reuniting, releasing the hit single "Sucker," which topped the charts. Their fifth studio album, titled "Happiness Begins" (2019), debuted at number 1 on the Billboard 200, and a world tour was announced shortly after.
The "Happiness Begins" tour sparked a renewed frenzy for Jonas Brothers tickets. Fans rushed online and queued up at box offices, eager to relive the magic of their concerts. The tour was a smashing success, combining their classic hits with their new material, thereby catering both to their original fan base and attracting new listeners. The sense of nostalgia, coupled with their sensational performance, made the concert a highly awaited event in the music world.
The recent pandemic did not stop the Jonas Brothers from reaching out to their fans. In May 2020, they staged a virtual concert, showcasing their adaptability to the changing dynamics of live performances.
Throughout their journey, the Jonas Brothers have demonstrated a unique ability to remain relevant and continue offering engaging and interactive concert experiences. Their live performances are always powered with infectious energy that keeps the fans hooked.
In conclusion, the Jonas Brothers, with their special bond as siblings and their musical talent, have filled venues worldwide with ecstatic fans. Their concerts and ticket sales are testament to their enduring popularity and their ability to reinvent themselves to keep up with shifting music trends. The anticipation that builds up prior to a Jonas Brothers concert and the frenzy to acquire tickets is a spectacle in itself, contributing to the overall experience of being a part of their musical journey.