Hamilton Tickets
No Buyer Fees Hamilton Tickets - Up to 30% Off Compared to Competitors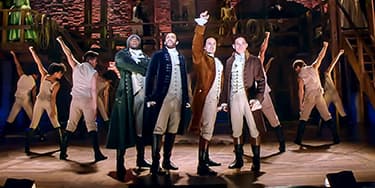 Location:
Select Location (e.g, New York)
About Hamilton
Fans of the hit musical "Hamilton" have a lot to be excited about, with several opportunities to score cheap tickets and catch the show live in the coming weeks and months.
Starting April 14th, fans can enter an online lottery for a chance to buy two $10 tickets for the "Hamilton" musical at Old National Centre. Meanwhile, Proctors in Schenectady is hosting "Hamilton" performances from March 14th to 26th, with a ticket lottery for each performance available online through the Hamilton app or website.
Those looking to catch the show in Richmond can enter a digital lottery for $10 "Hamilton" tickets starting March 31st, while tickets for the traveling Broadway production of "Hamilton" go on sale to the public starting April 19th, 2023.
For those in Minneapolis, "Hamilton" is once again offering a lottery for $10 tickets, which can be entered via the official Hamilton app or website. And fans in Bristol can get early access and cheaper tickets when the show arrives at the Hippodrome in April 2024.
But "Hamilton" isn't just about cheap tickets – the musical, which tells the story of American founding father Alexander Hamilton through a blend of hip-hop, jazz, rap, and R&B, has won numerous awards including 11 Tonys and a Pulitzer Prize for drama. And with a UK tour starting in November 2023 and running through October 2025, fans around the world will have even more chances to experience the show in person.
Whether you're a die-hard "Hamilton" fan or simply interested in seeing one of the most popular and acclaimed musicals of recent years, there are plenty of opportunities to catch the show live in the coming months. So don't miss your chance to be in the room where it happens!
Hamilton History
Hamilton is undoubtedly one of the most successful and popular musicals of all time. The show has been praised for its innovative storytelling, powerful performances, and catchy soundtrack. However, the history of Hamilton goes beyond the stage and has had a significant impact on the live theater industry.
The Broadway production of Hamilton premiered in 2015 and immediately became a cultural phenomenon. The show was written by Lin-Manuel Miranda, who was inspired by Ron Chernow's biography of Alexander Hamilton. Miranda's unique blend of hip-hop and traditional show tunes, along with his diverse cast and innovative staging, quickly won over audiences and critics alike.
Since its premiere, Hamilton has received numerous awards and accolades, including multiple Tony Awards, a Grammy Award, and a Pulitzer Prize. The show has also spawned several international productions, including a West End production in London and a touring production that has traveled throughout the United States and Canada.
One of the reasons for Hamilton's success is its ability to attract a broad audience. The show appeals to theatergoers of all ages, races, and backgrounds. This inclusivity is reflected in the show's casting, which features actors of different ethnicities playing historical figures traditionally portrayed by white actors.
Hamilton has also had a significant impact on the live theater industry, particularly in terms of ticket sales. The demand for Hamilton tickets has been unprecedented, with some tickets selling for thousands of dollars on the secondary market. The show's popularity has led to a resurgence of interest in live theater, with many people who may not have previously been theatergoers flocking to see Hamilton.
However, the high demand for Hamilton tickets has also led to controversy. Some critics have accused the show's producers of pricing out regular theatergoers, making it difficult for them to afford tickets. In response, the show has implemented a digital lottery system, where fans can enter to win discounted tickets.
Despite the controversy, Hamilton remains one of the most successful and influential live theater events of all time. The show has inspired a new generation of theatergoers and artists, who are eager to tell stories that are inclusive and diverse.
In conclusion, Hamilton's impact on the live theater industry cannot be overstated. The show has broken down barriers and introduced new audiences to the world of theater. While the demand for Hamilton tickets can be daunting, the show's success serves as a reminder of the power of live theater to bring people together and tell meaningful stories.