Chris Stapleton Tickets
No Buyer Fees Chris Stapleton Tickets - Up to 30% Off Compared to Competitors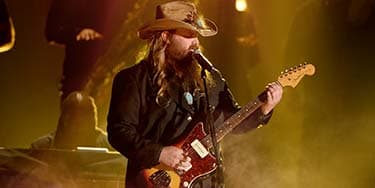 Location:
Select Location (e.g, New York)
Chris Stapleton Events Nearby
About Chris Stapleton
Country music fans have something to look forward to as Chris Stapleton, Los Huracanes, and Ha*Ash are among the exciting concerts coming up soon. One of the highlights of these events is Chris Stapleton's "All American Road Show" tour, which is set to take place at UTEP's Don Haskins Center on April 26th.
The Grammy-winning artist is expected to put on a spectacular performance, showcasing his exceptional musicianship and powerful vocals to fans who have eagerly been awaiting his return to the live stage. He will be joined by other country music artists such as Way Out West, Brad Paisley, Sara Evans, Margo Price, and Nikki Lane.
Tickets for Chris Stapleton's performance range from $139 to $488 and can be purchased through Ticketmaster.com. Fans are encouraged to secure their tickets early to avoid missing out on this highly anticipated concert.
In other news, Chris Stapleton has recently added new dates to his "All-American Road Show" tour, including a show at the UBS Arena at Belmont Park. This new addition only adds to the excitement of what is already shaping up to be an incredible tour.
So if you're a lover of country music and live entertainment, make sure to mark your calendars for Chris Stapleton's upcoming concert at UTEP's Don Haskins Center on April 26th. Tickets are available for purchase at Ticketmaster.com, with prices ranging from $139 to $488 plus fees. Don't miss out on this unforgettable night of music!
Chris Stapleton History
Chris Stapleton is a Grammy-winning singer, songwriter, and guitarist who is known for his powerful vocals and soulful lyrics. He was born in Lexington, Kentucky, in 1978 and grew up in a musical family. His father was a coal miner and his mother was a nurse, but both were also musicians who performed in local bands.
Stapleton began playing guitar and writing songs at a young age and eventually moved to Nashville in the early 2000s to pursue a career in music. He initially had success as a songwriter, penning hits for artists like Kenny Chesney, Luke Bryan, and George Strait. However, he didn't achieve widespread fame until he released his debut solo album, "Traveller," in 2015.
"Traveller" was a critical and commercial success, earning Stapleton three Grammy Awards and catapulting him into the mainstream. The album's lead single, "Nobody to Blame," reached number one on the Billboard Country Airplay chart, and the follow-up single, "Tennessee Whiskey," became a crossover hit.
Since the release of "Traveller," Stapleton has become one of the most sought-after live performers in country music. He has headlined his own tours, opened for acts like Tom Petty and the Heartbreakers, and played numerous festivals and special events. His high-energy shows are known for their soulful sound and electrifying guitar solos.
Getting tickets to see Chris Stapleton in concert can be a challenge, as his shows often sell out quickly. However, there are ways to increase your chances of snagging a seat. One option is to sign up for Stapleton's mailing list or follow him on social media, as he often announces tour dates and ticket pre-sales through those channels.
Another option is to purchase tickets through a reputable ticket broker like Ticketmaster or StubHub. While these websites may charge a premium for tickets, they can also offer peace of mind that you're buying legitimate tickets from a trusted source.
If you're a die-hard Chris Stapleton fan, you may also want to consider attending one of his intimate "From A Room" shows. These concerts take place in smaller venues like bars and clubs and offer a more intimate setting to see Stapleton perform. However, these shows are often announced at the last minute and can be difficult to get tickets for.
Regardless of how you get your tickets, seeing Chris Stapleton live in concert is an experience you won't forget. From his powerful vocals to his expert guitar playing, Stapleton is a true talent who has earned his place as one of country music's most beloved artists.