Bert Kreischer Tickets
No Buyer Fees Bert Kreischer Tickets - Up to 30% Off Compared to Competitors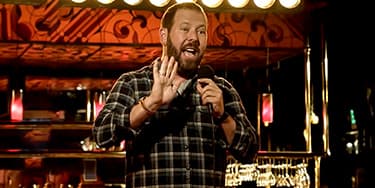 Location:
Select Location (e.g, New York)
About Bert Kreischer
Bert Kreischer, the renowned comedian, actor, host, and author, is set to embark on his "Tops Off World Tour", which has been extended with 31 new dates this fall. The tour will feature Kreischer performing his signature stand-up comedy routines, which have made him one of the top-grossing comedians in the world.
Fans of Kreischer's work will be thrilled to know that he will be performing at a number of venues across the country, including the Ford Center in Evansville, Indiana, where he will be taking the stage on September 20th. Tickets for his show go on sale Friday, May 5th, starting at 10 a.m.
Kreischer will also be performing at the MVP Arena in Albany on December 10th and in Roanoke on Sunday, December 3rd. Additionally, he will be bringing his tour to Raleigh, North Carolina, on September 14th and to San Diego, California, at a date that has yet to be announced.
Aside from his live performances, Kreischer is also known for his work in television and film. He has three Netflix specials: "Bert Kreischer: Secret Time" released in 2018, "Bert Kreischer: Hey Big Boy" released in 2020, and "Bert Kreischer: Razzle Dazzle" set to be released in 2023. He also has two of the most popular comedy podcasts in the world, "Bertcast" and "2 Bears 1 Cave" (with Tom Segura), stars in his own Netflix show "The Cabin with Bert Kreischer" and hosts "The Go Big Show" on TBS.
Fans of Kreischer's work will also be excited to hear that his infamous "The Machine" story will be turned into a feature film coming out on May 26th.
Kreischer's popularity continues to soar, with his tour bringing him to venues across the country, including the Intrust Bank Arena in Wichita, Kansas, and the T-Mobile Center in Kansas City, Missouri. His "Tops Off World Tour" will also be making a stop in Jacksonville, Florida, in October.
Overall, fans of live comedy entertainment are in for a treat with Bert Kreischer's "Tops Off World Tour". With his signature humor and unique style, Kreischer is sure to deliver a show that audiences won't forget.
Bert Kreischer History
Bert Kreischer, also known as "The Machine," is a comedian and actor who has risen to prominence in recent years for his unique brand of comedy. Born in Tampa, Florida in 1972, Kreischer attended Florida State University where he became well-known for his partying antics and was ultimately featured in a Rolling Stone article titled "The Undergraduate."
Kreischer's career in comedy began in the late 1990s, when he started performing stand-up at open mic nights in New York City. He soon developed a reputation for being a raunchy and irreverent comedian, and his popularity grew quickly. In 2001, Kreischer was offered his own show on FX called "The X-Show," which he co-hosted with Jeff Probst.
From there, Kreischer began to make a name for himself in the comedy world, appearing on shows like "Jay Leno," "The Tonight Show," and "Conan O'Brien." He also started releasing comedy albums and DVDs, including "Comfortably Dumb," which was released in 2009.
However, it was Kreischer's 2016 appearance on the podcast "The Joe Rogan Experience" that really catapulted him into the mainstream. During the episode, Kreischer told a story about how he had once participated in a bank robbery while on a trip to Russia, which became known as "The Machine Story." The story went viral, and Kreischer became an overnight sensation.
Since then, Kreischer has continued to tour the country performing stand-up and has also landed several acting roles. He has released several more comedy specials, including "The Machine" in 2016, "Secret Time" in 2018, and "Hey Big Boy" in 2020. He also hosts a podcast called "Bertcast," where he interviews other comedians and celebrities.
For fans of Kreischer's comedy, attending one of his live shows is a must. Kreischer is known for his high-energy performances and his ability to engage with his audience. His shows are often filled with hilarious stories and anecdotes, and he encourages audience participation, making for a truly interactive experience.
Tickets for Bert Kreischer's shows can be found on various ticketing websites, including Ticketmaster and StubHub. Prices vary depending on the venue and the location, but fans can usually expect to pay anywhere from $30 to $100 for a ticket.
Overall, Bert Kreischer has become a beloved figure in the world of comedy, thanks to his unique sense of humor and his engaging personality. For fans looking for a fun night out, attending one of his live shows is a must. With tickets readily available, there's no excuse not to see one of the funniest comedians in the game today.