Aerosmith Tickets
No Buyer Fees Aerosmith Tickets - Up to 30% Off Compared to Competitors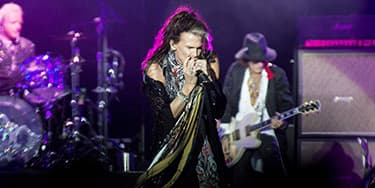 Location:
Select Location (e.g, New York)
Aerosmith
is not currently performing
About Aerosmith
Rock and Roll Hall of Fame inductees Aerosmith have recently announced their "Peace Out" farewell tour, scheduled to kick off in Philadelphia on September 2, 2023. However, due to health concerns of lead singer Steven Tyler, who has suffered vocal cord damage, six shows in September have been postponed to 2024. The band assures that all previously purchased tickets will be honoured at the rescheduled concerts.
The farewell tour will include a special hometown performance on New Year's Eve in Boston at TD Garden and stops at renowned venues such as the Xcel Energy Center, UBS Arena, and Prudential Center. The tour is also set to feature special guests The Black Crowes, marking a true celebration of more than 50 years of Aerosmith's music.
However, fans will note one key absence: founding drummer Joey Kramer. Kramer has chosen to sit out the scheduled tour dates to focus on his family and health. Replacing Kramer for the tour will be John Douglas, Aerosmith's former drum tech.
Aerosmith fans can expect a setlist that includes hits like "Sweet Emotion," "Walk This Way," and "Dream On," as well as deeper album cuts. But the cherry on the top is that Aerosmith will also be releasing a 44-song Greatest Hits collection ahead of the tour, including all their iconic tracks that have won them four Grammy Awards over the years.
Tickets for the Aerosmith farewell tour can be purchased through Ticketmaster and resale platforms such as StubHub and Vivid Seats. Show prices vary based on the venue and date, ranging approximately from $61 to $239. For fans seeking a premium experience, three VIP packages are also available: Aerosmith THX Certified PIT VIP Experience, Aerosmith Gold Seat VIP Package, and Steven Tyler and Joe Perry VIP Meet & Greet Upgrade.
The future of Aerosmith has indeed been shaky over the past 12 years owing to public feuding between members. But with the announcement of this farewell tour, it is evident that the band is ready to end on a high note, giving fans one last chance to witness the magic of Aerosmith live on stage.
Stay tuned for updates on Aerosmith's tour dates and be ready to celebrate the legendary rock band's five-decade-long journey in the music industry. Whether in Louisville or New York, Aerosmith will rock their fans one last time.
Aerosmith History
Aerosmith, one of the most iconic rock bands in the history of American music, has left an indelible impression on generations of music lovers. Known for their relentless hard rock sound and theatrical performances, Aerosmith has been attracting audiences to their live concerts since they first formed in 1970.
Born out of a collaboration between singer Steven Tyler and his friends, Aerosmith quickly cemented their reputation as a high-energy rock band with a rebellious streak. Their debut album, released in 1973, introduced the world to their blend of blues-infused hard rock, but it was their live performances that truly captivated audiences.
Aerosmith's live concerts have become legendary for their electrifying energy, flamboyant costumes, and theatrical performances. Steven Tyler's dynamic stage presence, complete with his trademark scarves draped over his microphone stand, coupled with Joe Perry's masterful guitar riffs, have made their concerts a must-see event for rock fans. The band's ability to captivate an audience has only grown stronger over the years, making Aerosmith concert tickets a hot commodity.
The band's dedication to their live shows is evidenced by their relentless touring schedule. They have performed in countless venues around the world, from small intimate clubs in their early days to massive arenas and festivals. Each performance is an explosive display of rock 'n' roll, displaying their musical prowess and charismatic stage presence.
The band has given the audience many iconic moments during their concerts. From their firework-filled performance at the Super Bowl XXXV halftime show to their infamous "elevator" concert where they performed in an actual moving elevator, every Aerosmith concert is an experience to remember.
Their most popular tours include the 'Get Your Wings' tour in 1974 that featured some of their biggest hits like "Dream On" and "Sweet Emotion." The 'Permanent Vacation' tour (1987-1988), during which they solidified their comeback, was an overwhelming commercial success. The 'Aero Force One' tour, named after their fan club, cemented their legacy as a live concert powerhouse.
Aerosmith concert tickets are always in high demand. Whether it's their 1984 'Back in the Saddle' tour, which marked their return after a brief break-up or their 50th-anniversary tour in 2020, Aerosmith's concerts are known to sell out quickly. Their shows are a spectacle, with Steven Tyler's raspy voice and energetic stage presence, Joe Perry's thrilling guitar solos, and the band's overall rock 'n' roll attitude justifying every single penny spent on the ticket.
In fact, Aerosmith concerts have become such a phenomenon that the band even has its own dedicated show in Las Vegas, "Aerosmith: Deuces are Wild." This residency showcases the band's iconic history and greatest hits, proving the insatiable appetite fans have for live Aerosmith performances.
In conclusion, Aerosmith's legacy is rooted not just in their studio albums but also significantly in their live performances. The band's energy, musical prowess, and ability to command a stage have made Aerosmith's concerts an unforgettable experience for their fans across the globe. Their tickets are coveted items, guaranteeing a night of exhilarating rock 'n' roll that leaves audiences wanting more. Aerosmith truly embodies the spirit of live rock music.