Wrestle Mania Tickets
No Buyer Fees Wrestle Mania Tickets - Up to 30% Off Compared to Competitors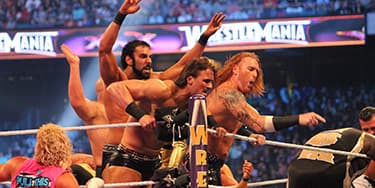 Location:
Select Location (e.g, New York)
WrestleMania Cities & Venues
About WrestleMania
WrestleMania 39 is set to take place in Los Angeles this weekend! Wrestling fans, get ready for two thrilling nights of live entertainment on Saturday, April 1, and Sunday, April 2. If you don't have tickets yet, you can still purchase them through Vivid Seats.
Passes for Saturday start at $53, while Sunday tickets begin at $70. The confirmed matches for WrestleMania 39 include some epic showdowns that are sure to keep you on the edge of your seat. And if you're curious about the most attended WrestleMania events in history, we've got you covered!
SoFi Stadium, the venue for WrestleMania 39, has already sold over 90,000 tickets. If it sells out completely, it could set a new attendance record. The event's revenue is already double that of the MLB World Series and nearly that of the Winter Olympics and Kentucky Derby.
But WrestleMania isn't just about the live event - there are plenty of other wrestling-related activities going on this weekend! Check out the article for a list of the 12 non-WWE wrestling events to watch during Wrestlemania weekend.
And speaking of merchandise, the WWE has partnered with Fanatics to sell merchandise at live events like WrestleMania and SummerSlam. In fact, they're expecting to set a time merchandise record at WrestleMania this year, with an increase of 20% compared to 2022.
Finally, John Cena fans will be excited to hear that he's joining the PGA Tour 2K23 Video Game as a playable golfer after his WrestleMania program with Austin Theory on Saturday. It's unclear if he'll make any additional WWE appearances in the weeks that follow WrestleMania, but we'll keep you posted!
Overall, despite recent controversies faced by the WWE, WrestleMania remains their flagship product and successful brand, bringing fans together for an unforgettable experience. So, grab your popcorn, sit back, and enjoy the show!
WrestleMania History
WrestleMania is the biggest annual professional wrestling event of the World Wrestling Entertainment (WWE) calendar. For over four decades, it has been a premier platform for wrestlers to showcase their skills, entertain fans and earn fame. Every year, thousands of fans queue up to get their hands on tickets to this spectacle, which has become one of the most popular live sports events globally.
The first-ever WrestleMania was held on March 31, 1985, at the Madison Square Garden in New York City. It was the brainchild of WWE owner Vince McMahon, who wanted to create a wrestling event that could match the Super Bowl in popularity and style. The inaugural WrestleMania featured some of the biggest wrestling legends of that era, including Hulk Hogan, Andre the Giant, and "Rowdy" Roddy Piper, to name a few. The event was a massive success, grossing over $1 million in ticket sales, and laid the foundation for an annual tradition that would become a global phenomenon.
Since then, the WWE has hosted over 36 WrestleMania events across North America, Europe, and the Middle East, with each edition getting bigger and better than the last. WrestleMania is not only an important wrestling event; it has become a pop culture event that attracts celebrities, athletes, and dignitaries from around the world. From Snoop Dogg to Donald Trump, each edition of WrestleMania has seen big names in attendance.
The excitement around WrestleMania is not just limited to the event day. The WWE has a week-long extravaganza leading up to the main event, which includes fan festivals, autograph signings, charity events, and other promotional activities. The WrestleMania week is a carnival-like atmosphere that has something for everyone, from ardent wrestling fans to casual viewers.
As a live sports event, WrestleMania tickets are always in high demand. The WWE follows an innovative pricing structure for the event, with ticket prices varying based on the level of seating and the location of the event. For instance, ringside tickets for WrestleMania 34 held in New Orleans, Louisiana, were priced at $2,130, while the cheapest tickets cost around $35. The WWE has also introduced VIP packages that include access to pre-event parties, meet-and-greet sessions, and other exclusive perks.
The COVID-19 pandemic has disrupted the WWE's WrestleMania plans in recent times, forcing the event to go virtual in 2020 and limiting the capacity of the audience in 2021. However, even with these challenges, the WWE continues to innovate and adapt to ensure that WrestleMania remains a hugely successful live sports event, attracting a global audience both in-person and via the media.
In conclusion, WrestleMania has become one of the world's most iconic live sports events, attracting audiences worldwide. From its humble beginnings in 1985 to its current worldwide popularity, WrestleMania has entertained fans of all ages and attracted big names from multiple industries. The demand for tickets to this annual event continues to be high, and its status as a pop culture event only adds to its allure. As the WWE continues to innovate and push the boundaries of professional wrestling, WrestleMania is set to remain a premier live sports event for many years to come.