The Fugees Tickets
No Buyer Fees The Fugees Tickets - Up to 30% Off Compared to Competitors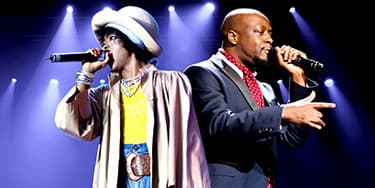 Location:
Select Location (e.g, New York)
The Fugees
is not currently performing
About The Fugees
The Fugees, an American hip-hop group, composed of Lauryn Hill, Pras Michel, and Wyclef Jean, emerged in the mid-'90s and left an indelible mark on the music scene with their distinct fusion of reggae, R&B, soul, and a lyrical potency that resonated with many. Their live performances continue to be revered as some of the most memorable in hip-hop history, showcasing their individual talents and collective brilliance. Descending from the heights of their popularity, their live performances have become highly sought-after events, making tickets a coveted item among music lovers.
One of their most iconic songs is "Killing Me Softly." This was originally a song by Roberta Flack, but The Fugees' rendition breathed new life into this old classic, transforming it into an anthem for a new generation. It is one of their songs that fans were always eager to hear live. Hill's soulful, passionate delivery coupled with the innovative instrumentation always created an electrifying atmosphere in live performances. This song's popularity ensures that tickets to their concerts sell out quickly, as audiences anticipate experiencing this classic in a live setting.
"Ready or Not" is another song by The Fugees that audiences loved to hear live. Brimming with raw emotion, intensity, and profound lyrical content, this song often left crowds spellbound during live performances. Known for their artistry and compelling stage presence, The Fugees' rendition of "Ready or Not" in a live event is a testament to their innate ability to connect with their audiences. The anticipation to hear this track live often sees a surge in ticket sales for their events.
A live performance of the track "Fu-Gee-La" is another event that fans eagerly await. This song emphasized The Fugees' versatility as it incorporated elements of classic reggae into their signature hip-hop sound. During their live shows, this track always evoked a vibrant, high-energy response from the crowd, making it one of their most popular live songs. This song's popularity often results in a high demand for Fugees tickets, as fans anticipate sharing in the infectious energy that this song incites in a live setting.
Finally, "No Woman, No Cry," a cover of Bob Marley's iconic song, is perhaps one of their most notable live songs. The Fugees' version is a beautiful blend of reggae and R&B elements with powerful vocals from Lauryn Hill, resulting in a soul-stirring rendition that always leaves audiences in awe at live events. This rendition's popularity ensures a surge in ticket sales, as it offers fans an unparalleled opportunity to witness this classic being performed by The Fugees live.
In conclusion, The Fugees' concerts commanded a level of anticipation and excitement that made their live performances an unforgettable experience. The popularity of their live songs ensured that tickets for their events were highly sought after. The Fugees effortlessly delivered a unique blend of hip-hop, reggae, R&B, and soul in their live performances, captivating their audiences, reaffirming their status as icons in the music industry, and leaving an enduring legacy in the world of live performances.
The Fugees History
The Fugees, a critically-acclaimed rap group from the 90s, is remembered for their unique blending of soul, reggae, and rap, churning out some truly unforgettable tracks. Consisting of members Lauryn Hill, Wyclef Jean, and Pras Michel, their music continues to reverberate across the world, leaving an indelible mark on the global music scene. The Fugees were known not just for their innovative music, but for their electrifying live performances that kept their fan base hooked and always eager for more.
Originally known as Tranzlator Crew, they later changed the name to the Fugees, a term derived from 'refugee', a nod to Wyclef and Pras's Haitian roots. The Fugees' first album, "Blunted on Reality" in 1994, introduced the world to their distinctive sound. It was their second album, "The Score" in 1996, with hits like "Killing Me Softly", "Ready or Not", and "No Woman, No Cry", that catapulted them to international superstardom.
Their live performances were much sought after and tickets were always in high demand. From small clubs to gigantic arenas, wherever the Fugees went, they brought the house down. Their concerts were not just music events, they were full-blown spectacles that constantly pushed artistic boundaries. Fans eagerly awaited their live concerts as the trio knew how to put on a show, cleverly merging their individual talents. The Fugees had a reputation for effortlessly engaging the crowd, making every concert a singularly unique event.
The tickets to their concerts were always in demand due to their exceptional musical prowess and charismatic stage presence. The sight of Lauryn Hill, with her soulful voice and magnetic charisma, Wyclef Jean, with his agile rap and guitar skills, and Pras Michel, with his clever lyricism, was a visual and auditory feast for the audience. The trio's ability to blend different music genres, creating a unique sound, often resulted in sold-out concerts worldwide.
The Fugees' live performances were so successful that they also released a live album, "The Complete Score", which included live versions of some of their greatest hits. This album gave fans who couldn't attend their concerts a chance to experience the raw energy and talent of the Fugees in a live setting.
Nevertheless, the band disbanded in 1997, at the peak of their popularity, leaving fans longing for a reunion. In 2005, they partially granted this wish by performing together for Dave Chappelle's Block Party in New York and later embarking on a European tour. However, it wasn't until 2021 that the group officially announced a reunion with a global tour to celebrate the 25th anniversary of their iconic album, "The Score".
The announcement of their reunion tour took the world by storm, and tickets sold out almost immediately. The concerts promised nostalgic performances of their major hits and fans worldwide jumped at the chance to see them perform live once more.
The Fugees' influence is far-reaching and their concerts remain a memorable part of hip-hop history. Their unique sound and unforgettable live performances continue to inspire artists and thrill fans even today. Tickets to their live concerts are more than just entry passes; they are tickets to witness firsthand the magic of one of the most innovative rap groups in history.