The Elovaters Tickets
No Buyer Fees The Elovaters Tickets - Up to 30% Off Compared to Competitors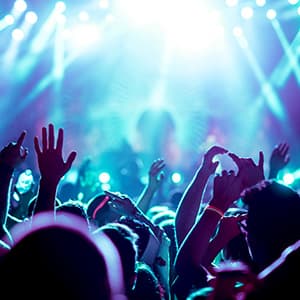 Location:
Select Location (e.g, New York)
About The Elovaters
The Elovaters, a widely recognized reggae band from Boston, Massachusetts, has created a strong reputation for delivering toe-tapping, feel-good music in their live performances. Their songs blend reggae beats with a sprinkle of rock and pop to create a unique sound loved by their fans.
One of their most popular live songs is "So Many Reasons." Played in numerous concerts, this song presents an energetic blend of melodious choruses, rhythmic beats, and melodious guitar strumming that can lighten up any venue. The crowd always reacts enthusiastically when the opening beats of "So Many Reasons" start to play. Dedicated fans can be seen singing along, further amplifying the energy. The e-ticketing platforms for these shows often resonate with positive reviews emphasizing the band's spirited execution of this song.
"Sunshine" is another popular song that The Elovaters often perform live. It's a vibrant, rhythmic piece of music that fills concert venues with an infectious, upbeat energy. The lively performance of this song has often been credited with setting the tone for the band's live shows. When The Elovaters announce an upcoming concert, fans quickly flock to online ticket platforms in anticipation of experiencing the exhilaration of "Sunshine" live.
"Mermaid" is a crowd favorite during their live performances. It showcases the band's magnificent ability to combine poignant lyrics with foot-tapping reggae beats. It is always met with loud cheers and applause from the audience. Tickets for The Elovaters' concerts are known to sell quickly, given that fans don't want to miss out on their captivating performance of "Mermaid".
"Live By The Day" arguably adds the most vibrancy to their concerts. Its lyrics are uplifting, and the reggae beats make the audience sway in rhythm. This song helps create an overall positive ambiance and leaves the crowd chanting for more. The Elovaters' performance of "Live By The Day" is often etched in the memory of concert-goers, prompting them to keep an eye on ticket sales for the band's next live gig.
Lastly, "Gonna Shine" cannot go without mention. This song is a testament to The Elovaters' talent for fusing reggae with other music genres. Its infectious rhythm and catchy lyrics are guaranteed crowd-pleasers. "Gonna Shine" is often seen as the highlight in their live performances, with fans lauding the band's energetic delivery of the song. The large numbers that turn up to buy tickets for their concerts is a true reflection of the popularity of this song.
In conclusion, The Elovaters have perfected the art of delivering memorable live performances. Their unique sound and high-energy performances of hit songs like "So Many Reasons", "Sunshine", "Mermaid", "Live By The Day", and "Gonna Shine" create an immersive experience that leaves audiences yearning for more. This has fostered a loyal fan base always ready to snap up tickets for their shows the moment they become available. Whether it's an intimate local show or a large music festival, The Elovaters have proven their ability to make any live event a memorable experience. So, if you're a fan of feel-good music and unforgettable live performances, secure your ticket for the next Elovaters concert – it's an experience not to be missed!
The Elovaters History
The Elovaters, an American reggae band known for their incredible fusion of reggae, pop, and rock, have been steadily gaining recognition on the international music scene. The band is based in Boston, Massachusetts, and has experienced a meteoric rise since their inception. One of the most exciting facets of their journey has been their mesmerizing live concert events and the rising demand for their concert tickets among fans.
The band was formed in 2014 by Jackson Wetherbee (lead vocalist and guitarist) and John Alves (lead guitarist), two childhood friends who found a shared passion for reggae music. The duo was later joined by other talented musicians, and together they formed a musical ensemble known for its unique sound and captivating stage performances.
Performing at live concerts has always been at the heart of The Elovaters. Their concerts are known for their high-energy performances, soulful harmonies, and buoyant rhythms that pull audiences into their world. Seeing them live is an immersive experience that connects fans with the band in a deep and profound way. The camaraderie and chemistry among the band members are palpable in their live performances, and their ability to create a captivating atmosphere is truly magical.
Concert tickets for The Elovaters have grown in demand as the band has expanded their fan base. With each new album release and tour, tickets for their shows are often sold out, highlighting the band's growing popularity. Their performance at the famous Levitate Music Festival in 2018 served as a significant breakthrough, helping to increase their demand in the live concert segment.
The Elovaters have toured extensively around the United States, sharing their music and vibrant energy through their live performances. The band has also performed alongside legendary reggae artists, including The Wailers, Ziggy Marley, and Stick Figure, proving their credibility and talent in the reggae music scene.
In terms of concert events, The Elovaters leave no stone unturned to ensure a memorable experience for their fans. Their concerts are a visual and auditory feast, with a perfect blend of lighting, sound, and stage setup that complements their reggae roots. Fans at their shows can expect a variety of outcomes, from grooving to their upbeat numbers, getting lost in their soulful tunes, or getting energized and joining the band in their vibrant performances. The band members' interaction with the crowd is a key feature of their concerts, which gives fans an intimate and personal connection to the music.
The Elovaters have an insatiable desire to create meaningful and enjoyable music, and seeing them perform is a testament to that passion. The love, energy, and dedication they pour into their craft are clearly reflected in their concerts. No matter if they are playing in a small venue or a jam-packed festival, the band's commitment to their performance is unwavering.
In conclusion, The Elovaters' growth and development as a band are deeply intertwined with their live concert events. These concerts not only serve as a platform for the band to share their music but also as a medium to engage, entertain, and connect with their fans. Ticket sales for these concerts are a testament to the band's popularity, reflecting their increasing demand in the music world. The Elovaters continue to climb the ladder of success, giving reggae lovers worldwide a fresh and exciting taste of their distinctive music style.