Tech N 9 Ne Tickets
No Buyer Fees Tech N 9 Ne Tickets - Up to 30% Off Compared to Competitors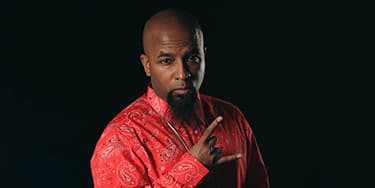 Location:
Select Location (e.g, New York)
Tech N9ne Cities & Venues
About Tech N9ne
Tech N9ne, often hailed as the king of independent hip-hop, is known for his dynamic and energetic live performances. Fans from all across the globe flock to his shows to become part of the insane energy that Tech N9ne exudes on stage. These shows often feature some of his most popular and beloved songs, making every Tech N9ne concert a thoroughly unforgettable experience.
One of the standouts in Tech N9ne's live set list is "Caribou Lou." This song, from his 2006 album "Everready," is a fan favorite due to its catchy tune and infectious rhythm. The powerful beats and Tech's rhythmic flow instantly make the audience move. It's not uncommon to see the crowd dancing and singing along when this track is played. If there's one song that can get fans to purchase those precious Tech N9ne tickets and make their way to his live events, it's this one.
Another song that stands out and has made its way into almost every Tech N9ne live show is "Einstein." As one of his early hits, it has become a signature number in his concerts. The song showcases Tech's rapid-fire flow and complex lyrical composition which have become his trademark. This track often generates a massive response from the crowd, making it a must-have on his live performances.
Also part of his regular setlist at live events is the song "Dysfunctional" from his 2009 album "Sickology 101". This song's lyrics talk about the struggles of dealing with mental health, which resonates with many of his fans. When performed live, Tech manages to recreate the raw emotionality of the studio version, often drawing cheers and applause from the audience.
Recent concerts have also seen "Fragile," a track from his 2013 album "Something Else," become a crowd favorite. This song features Mayday and Kendall Morgan and owes its popularity to its compelling lyrics about artist's sensibility to criticism, combined with a catchy chorus. The live rendition of "Fragile" showcases not only Tech N9ne's fast-paced rap, but also his ability to express deep emotion through music.
And of course, no Tech N9ne live performance would be considered complete without "Worldwide Choppers." This song showcases the rapper's high-energy and fast-paced style. When performed live, it leaves the audience in awe of Tech N9ne's ability to deliver complex lyrics at breakneck speeds.
The popularity of these songs and the exhilarating experience of a Tech N9ne concert creates a high demand for live event tickets. Fans eagerly anticipate tour announcements to secure their spot at his shows. It's not just the promise of hearing these fan favorites live, but also the charismatic presence of Tech N9ne himself that makes these concerts a big draw.
In conclusion, Tech N9ne has earned a loyal fan base due to his lyrical prowess and energetic performances. His live shows are a testament to his skill and the love he has for his craft. Whether it's "Caribou Lou," "Einstein," "Dysfunctional," "Fragile," or "Worldwide Choppers," Tech N9ne's popular songs are undoubtedly part of what makes a Tech N9ne concert ticket a hot commodity.
Tech N9ne History
Tech N9ne is a celebrated American rapper, songwriter, and record producer who has left an indelible mark on hip-hop music since his debut in the late 1990s. Born Aaron Dontez Yates in Kansas City, Missouri, he adopted the alias Tech N9ne as a nod to his fast-paced, technical style of rap, as well as the TEC-9 semi-automatic handgun, a symbol of his struggle-filled past and aggressive lyricism.
Tech N9ne's extensive discography boasts over 20 albums, multiple EP's, collaborative albums and countless guest features. However, it's not just his prolific recording career that sets him apart. His reputation as a live performer is virtually unparalleled. Known for his high-energy, crowd-engaging shows, Tech N9ne's stage performances are a sight to behold. His concerts are not just about the music, but also about the raw, palpable connection he shares with his fans, known as Technicians.
Performing live has always been an integral part of Tech N9ne's career. He not only delivers his intense, rapid-fire lyrics with precision, but his shows are known for their theatrical elements, including face paint, intricate light shows, and coordinated dances. This theatrics and his dynamic performance style have helped him relentlessly sell tickets, making him one of the highest-grossing touring artists in the world.
Tech N9ne's concert tours are renowned for the breadth and scope they encompass. His "Hostile Takeover" tour in 2012 holds the record for the longest tour in rap history, with 96 shows in 105 days. Throughout his career, he has held hundreds of concerts, performing in different cities, states, and countries, ensuring his fans worldwide get a chance to witness his electrifying performances live.
Despite the rise of online streaming, Tech N9ne has emphasized the importance of live concerts for musicians. He believes that even though music can be accessed at the touch of a button, the energy, emotion, and connection between an artist and his fans at a live show cannot be replicated. For him, each concert is an opportunity to connect with his followers, deliver an unforgettable experience, and create a lasting impression.
Buying Tech N9ne's concert tickets is not just about watching a live performance but participating in a unique experience. Promotions for his shows are always compelling, with unique pre-sale perks like VIP meet-and-greet packages, exclusive merchandise, and first access to tickets often offered to fans. The quality, energy, and consistency in his shows, coupled with his direct engagement with fans, have sustained Tech N9ne's continuing success in an industry not always kind to independent artists.
Tech N9ne has continually pushed the boundaries in the music industry. Through independent label Strange Music, which he co-founded with business partner Travis O'Guin, Tech N9ne has shown that success can be achieved outside the traditional music industry structures. From selling CDs out of his car to selling out venues worldwide, his journey has been marked by resilience, passion, and an unyielding commitment to his craft.
In conclusion, Tech N9ne's history isn't just about his music, but also about the unforgettable live concert experiences he offers and the loyal fanbase he has cultivated. His concerts encapsulate the essence of his career—hard-hitting, personal, and relentless. For fans lucky enough to snag tickets to his shows, they're guaranteed a night of exhilarating, top-tier hip-hop performance.