Puscifer Tickets
No Buyer Fees Puscifer Tickets - Up to 30% Off Compared to Competitors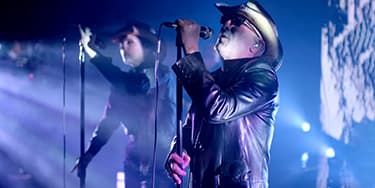 Location:
Select Location (e.g, New York)
About Puscifer
Puscifer, an experimental music project created by Maynard James Keenan, has been a huge hit in the live music scene for its innovative sound and theatrical performances. Known for their genre-blending styles – incorporating elements of rock, electro, trip-hop, and more – Puscifer live events are a unique combination of music, performance art, and comedy sketches, making them one of the most captivating live acts in the music industry. With live performances becoming an ever-rising source of income for artists, these Puscifer events are highly sought-after, with tickets often selling out in a short span of time.
Some of Puscifer's most prominent live songs are from their popular albums "V Is for Vagina," "Conditions of My Parole," and "Existential Reckoning." Among these, "The Humbling River" is an absolute crowd pleaser. Played live, it turns into an experience of its own as the band masterfully employs various instruments, bringing out a raw, emotional version of the song. The song's concept coupled with the passionate performance gives the audience a sense of unity and melancholy which engulfs the entire concert arena.
"Remedy," another top live performance song from Puscifer, showcases the powerhouse vocals of Keenan and Carina Round, the contrasting yet harmonizing voices creating a hypnotizing resonance that fills the concert venue. This song's punchy, anthemic sound and catchy chorus create a high-energy atmosphere that has fans singing along wholeheartedly.
"Potions," a live favourite, often fascinates audiences with its interesting backstory. Originally a collaboration with Trent Reznor of Nine Inch Nails, the Puscifer version was reworked, and the live performance of this song showcases the stunning vocal harmonies of Keenan and Round. The song consists of an electronic backdrop, groovy percussion, and string sections that make it a mesmerizing live track.
"Grand Canyon," a captivating piece that showcases Puscifer's ability to evoke and capture the essence of nature through their music, is another popular live song. The band's delivery during live shows often leaves audiences in awe of the immersive, atmospheric soundscape they create.
The engaging, theatrical display at Puscifer live events adds another layer of appeal to these popular songs. The band members often add dramatic narration, visual effects, and costume changes into their performances, creating a unique, surreal concert experience. This fusion of music with performance art provides a spectacular, otherworldly spectacle for audience members, making every Puscifer concert a hugely anticipated event.
Fans eager to experience these live Puscifer shows are encouraged to secure their tickets as early as possible. Given the popularity of the band's performances, tickets usually sell out fast, making early-bird options valuable. Most concert and event platforms offer a variety of ticketing options, ranging from standard entries to VIP packages that can include perks such as early access, pre-show soundchecks and exclusive merchandise.
Puscifer's live performances elevate their music to new heights, transforming their songs into immersive, unforgettable experiences. Live events provide fans with the opportunity to connect with the music in a deeper, more impactful way. Whether you're a longtime fan or newly discovering their music, catching Puscifer live should definitely be on your music event bucket list.
Puscifer History
Puscifer, widely recognized in the progressive music space, is the brainchild of Maynard James Keenan — also known for his involvement in bands like Tool and A Perfect Circle. Keenan ventured on this journey to explore new musical territories, and since 2007, Puscifer has been making waves in the alternative rock landscape. However, it's not just the eclectic mix of rock, electro, and trip hop that sets them apart. In fact, what makes Puscifer a unique entity is their approach towards live performances, known for their theatricality and mind-bending concepts.
Puscifer is more than just a band; it's a multimedia project, with its roots in providing a platform for Keenan's kaleidoscopic ideas that transcend musical boundaries. Nonetheless, it's through live shows where this concept truly blossoms. They're not just concerts; they're a complete audio-visual experience that engages and submerges audiences into a different universe.
When Puscifer announced their first tour in 2009 called 'Tuscon Happens', it marked the beginning of an era of unconventional live concerts that would later become the band's signature. Limiting their concerts to small, intimate venues, they aimed to offer an immersive experience to their fans. Each concert had a consistent narrative running through it, with distinct set designs, film elements, costumes, and of course, a unique blend of music that enthralled spectators.
Tickets for Puscifer's live concerts are highly sought after, often selling out within moments of going on sale. The 2015 'Money $hot' tour was brought to life through a specifically designed Luchador wrestling theme – yet another showcase of the band's innovative storytelling capabilities. It was a mix of theatrics and music, with luchadores wrestling during instrumental interludes.
In 2016, Puscifer embarked on a North American tour, where instead of opting for large arenas, they sought out smaller, intimate theaters. This allowed fans to truly dive into the band's world. The vibe was set from the moment you stepped into the venue till they played the last note. And the ticket? It was like a passport to a different universe, curated and designed by Puscifer.
In 2020, Puscifer continued to push the boundaries, this time with a virtual concert. Titled "Existential Reckoning: Live at Arcosanti," the live stream concert was held in the Arizona desert, providing a surreal, dystopian backdrop to their music. The innovative, cinematic concert experience continued to position Puscifer as daring trailblazers in the world of live music.
Puscifer's live concerts, from their inception, have been synonymous with unexpectedness. They are notorious for never repeating a live show concept, giving fans a fresh experience every time. This unpredictability has made acquiring a ticket quite a pursuit for fans, who eagerly anticipate what Puscifer has in store for them.
In essence, Puscifer's unique approach to live concerts has given them a distinct identity in the music industry. Maynard James Keenan and his ever-changing group of musicians continue to redefine what it means to stage a live performance. Each concert is a ticket to a stupendously theatrical world that only Puscifer can pull off. This allure has undoubtedly made Puscifer a fascination in the live music space.