Nhl Preseason Tickets
No Buyer Fees Nhl Preseason Tickets - Up to 30% Off Compared to Competitors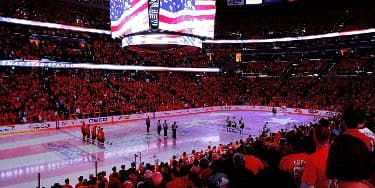 Location:
Select Location (e.g, New York)
NHL Preseason
is not currently performing
About NHL Preseason
As summer draws to a close each year, hockey fans eagerly await the start of the NHL preseason. These games serve as a warm-up for teams, as they test out new lines, players, and strategies before the regular season begins. While preseason games may not count towards a team's record, they offer fans an early glimpse into what they can expect from their favorite players and how the team is shaping up for the upcoming season.
In the most recent past, the NHL preseason has been filled with excitement and highlights. In 2019, fans were treated to the debut of a number of young stars, including Jack Hughes of the New Jersey Devils and Kaapo Kakko of the New York Rangers. Both players were highly touted prospects leading up to the NHL draft, and their performances in the preseason did not disappoint. Hughes tallied his first NHL goal in just his second preseason game, while Kakko showcased his impressive puck-handling skills and scoring ability.
Another standout from the 2019 preseason was the performance of Colorado Avalanche forward Nathan MacKinnon. MacKinnon had an incredible preseason, scoring six goals and adding four assists in just five games. His impressive play had fans and analysts alike buzzing about his potential for the upcoming season.
Outside of individual performances, the 2019 preseason also featured a number of exciting team matchups. One of the most highly anticipated games was between the Boston Bruins and the New Jersey Devils, as it marked the return of former Devil and current Bruin, Marcus Johansson. While Johansson did not score in the game, he did play a strong game and helped lead the Bruins to a 3-2 victory.
The 2021 preseason is shaping up to be just as exciting as years past, with fans eagerly awaiting the return of NHL hockey after a shortened 2020-2021 season due to the COVID-19 pandemic. Teams are currently in training camp, preparing for the preseason games that will begin in September.
For fans looking to attend a preseason game, tickets are already on sale for many teams. While preseason tickets may not be as in-demand as regular season tickets, they still offer a great opportunity to see some of the NHL's biggest stars in action at a lower price point. Additionally, attending a preseason game can be a great way for fans to get closer to the action and experience the excitement of a live hockey game without the pressure of a regular season matchup.
In conclusion, the NHL preseason offers fans an exciting preview of what they can expect from their favorite teams and players in the upcoming regular season. From individual performances to team matchups, there is no shortage of excitement and highlights during these warm-up games. So, whether you're a longtime fan or just starting to get into hockey, consider attending a preseason game and experiencing the excitement of live NHL action for yourself.
NHL Preseason History
The NHL Preseason is an exciting time for hockey fans as they eagerly await the start of the regular season. The preseason is a series of games that take place before the regular season begins. It gives teams a chance to test out new players, try out different line combinations, and fine-tune their strategies before the real competition begins.
The NHL Preseason has a long and storied history dating back to the earliest days of the league. In the early years, preseason games were often played against local amateur teams and were used as exhibition games to build interest in the upcoming season. As the league grew in popularity, teams began to play preseason games against other NHL teams, as well as against teams from other leagues such as the WHA.
Today, the NHL Preseason is a major event that draws thousands of fans to arenas across the continent. The games are usually played in smaller venues than regular season games, but they still provide an opportunity for fans to see their favorite teams and players up close. Tickets to NHL Preseason games are often more affordable than regular season tickets, making them a popular choice for families and budget-conscious fans.
The NHL Preseason typically begins in mid-September and lasts for about two weeks. Each team plays between five and eight preseason games, with the exact number depending on the schedule and other factors. The preseason schedule is usually announced several months in advance, allowing fans to plan their attendance and purchase tickets well in advance.
One of the interesting things about the NHL Preseason is that the games are often played in smaller cities and towns that don't have NHL teams of their own. This gives fans in these areas a chance to see the game at the highest level without having to travel to a major city. It also helps to build interest in the sport and the league in areas that may not have a strong hockey tradition.
In addition to the games themselves, the NHL Preseason also features a number of other events and activities. Many teams hold open practices that fans can attend for free, giving them a chance to see the players up close and get a behind-the-scenes look at the team's preparation for the season. There are also autograph sessions, meet and greets with players, and other fan-friendly events that help to build excitement for the upcoming season.
For fans who are unable to attend NHL Preseason games in person, there are still plenty of ways to stay connected to the action. Many games are broadcast on television or online, allowing fans to watch from the comfort of their own homes. There are also a variety of social media channels, blogs, and other online resources that provide up-to-the-minute news, analysis, and commentary on the preseason and the upcoming regular season.
Overall, the NHL Preseason is a fun and exciting time for hockey fans of all ages. Whether you're a diehard fan who follows every game or a casual observer who just enjoys the sport, the preseason offers plenty of opportunities to get involved and enjoy the action. So if you're a hockey fan, be sure to mark your calendar for the next NHL Preseason and grab your tickets early – you won't want to miss the excitement!