New York City Ballet Tickets
No Buyer Fees New York City Ballet Tickets - Up to 30% Off Compared to Competitors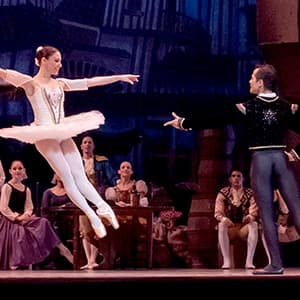 Location:
Select Location (e.g, New York)
New York City Ballet Cities & Venues
About New York City Ballet
New York City Ballet (NYCB), one of the foremost ballet companies in the world, has a rich history and a vast repertoire that spans all eras of ballet. While ballet may not be typically associated with "songs," what truly sets the mood and drives the performances are the remarkable musical compositions that accompany NYCB's ballets.
By far, one of the most popular compositions for NYCB is Pyotr Ilyich Tchaikovsky's score for George Balanchine's "The Nutcracker." This annual Christmas tradition is a sell-out event, with tickets often getting booked well in advance. The enchanting and festive tunes, such as "Dance of the Sugar Plum Fairy" and "Waltz of the Snowflakes," breathe life into an already magical choreography, making it one of the highest-selling live events of NYCB.
In addition to "The Nutcracker," Igor Stravinsky's compositions for Balanchine's ballets are always highly anticipated. Stravinsky's scores are distinctive and dramatic, making ballets such as "Agon," "Apollo," and "Orpheus" almost instantly recognizable to regular NYCB attendees. These performances drive a substantial percentage of ticket sales for the company each season.
Another popular score is Sergei Prokofiev's "Romeo and Juliet," used for Peter Martins' ballet of the same name. This emotional and dramatic score is beloved by many ballet aficionados, attracting large crowds every time it is performed. The live performance of the score is an event in and of itself, with melodies that beautifully express the youthfulness, passion, and tragedy of Shakespeare's classic tale.
Balanchine's "Serenade" with Tchaikovsky's "Serenade for Strings in C Major" is another favored composition. As NYCB's inaugural ballet and the first ballet Balanchine choreographed in America, it holds a significant place in the company's repertoire. The soul-stirring tunes from Tchaikovsky's serenade enhance the mesmerizing movements of the dancers, making it a must-watch spectacle and a hot-ticket event.
Maurice Ravel's haunting score for "La Valse" is also a high point of NYCB's musical repertoire. Paired with Balanchine's masterful choreography, the music's waltzing rhythms and escalating drama create an eerie, intoxicating atmosphere that consistently draws large audiences.
In addition, NYCB's annual performances of Balanchine's "Jewels" also draw significant ticket sales, largely due to the musical scores. This three-act ballet features music from three different composers – Gabriel Fauré's music for "Emeralds," Stravinsky's score for "Rubies," and Tchaikovsky's Symphony No. 3 in D Major for "Diamonds."
Furthermore, the New York City Ballet Orchestra's live performance of these scores is an integral part of the NYCB experience. The orchestra's rich, full sound combined with the ballet's exquisite choreography create a vibrant, dynamic performance that enthralls audiences throughout each season.
In conclusion, while there are no "songs" in the traditional sense, the musical compositions that accompany New York City Ballet's live performances are a fundamental component of their appeal and popularity. These scores not only set the mood and deepen the emotional impact of the ballets but also significantly drive ticket sales for the company's live events.
New York City Ballet History
The New York City Ballet, one of the world's foremost dance companies, has an illustrious history that spans more than seven decades. Established in 1948, the company emerged from a larger organization, Ballet Society, founded by the visionary choreographer George Balanchine and Lincoln Kirstein, a prominent figure in NYC's cultural life.
Though the NYC Ballet's early days were marked by struggles – they had no dedicated performance space and operated on a shoestring budget – they shortly gained recognition for their stunning productions. Unlike many ballet companies that relied heavily on narrative ballets, the NYC Ballet made a distinctive name for itself through a focus on "plotless ballet" or pure dance that concentrated on the beauty of movement and the relationship between dance and music.
Balanchine was the vital force behind this innovative approach. His boundary-pushing choreography blended classical ballet with contemporary elements, creating a unique style that has shaped the world of ballet. Today, Balanchine's work, along with that of his successor, Jerome Robbins, forms the backbone of the NYC Ballet's rich and diverse repertoire.
From its early days, the New York City Ballet has created a platform for pioneering artists. It made history in 1954 with the premiere of the now-iconic Christmas spectacular "The Nutcracker," making it a cornerstone of American holiday tradition and a consistent draw for both locals and tourists. The company also regularly collaborates with leading composers, designers, and visual artists to create visually and musically compelling works.
Throughout its history, the NYC Ballet has shown a commitment to fostering new talent. The company is linked to the School of American Ballet, which has been instrumental in training many of the dancers who later join the company. This ensures a continuity of style and tradition, while providing a platform for the development of new voices in the ballet world.
Since 1964, the company's home has been the David H. Koch Theater at Lincoln Center, a sprawling complex that represents the city's cultural heart. The theater, with its stunning auditorium and state-of-the-art facilities, provides the perfect backdrop for the company's performances.
Today, the NYC Ballet continues to be a beacon in the world of dance. It offers a regular season of performances, premiering numerous works every year. The company also tours nationally and internationally, bringing its distinctive style of ballet to audiences around the world.
For those interested in witnessing the magic of the NYC Ballet, tickets can be purchased for individual performances or as part of a season subscription. A range of options, from affordable seats to premier packages, make the experience accessible to a wide audience. Many performances sell out quickly, so securing tickets in advance is often recommended.
In a city known for its vibrant cultural scene, the New York City Ballet stands as a testament to the enduring power and beauty of dance. Whether you're a longtime ballet enthusiast or new to the form, attending a performance by this iconic company is a highlight of the NYC live theater scene. From the moment the curtain rises to the final, triumphant bow, a night at the NYC Ballet is an experience to savor.