Needtobreathe Tickets
No Buyer Fees Needtobreathe Tickets - Up to 30% Off Compared to Competitors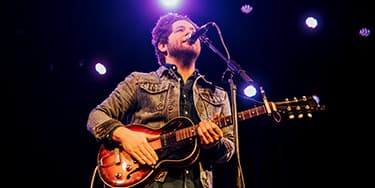 Location:
Select Location (e.g, New York)
About Needtobreathe
Grammy-nominated American rock band, NEEDTOBREATHE, is set to light up the Van Andel Arena stage in Grand Rapids on November 7. The announcement comes as exciting news for fans of the South Carolina-based band who have been eagerly awaiting a live performance since the pandemic hit.
Joining NEEDTOBREATHE on the stage will be Judah & the Lion, an alternative rock band that has been making waves in the industry since its formation in 2011. Together, the two acts promise to deliver a memorable show for their fans.
NEEDTOBREATHE has been making music for over two decades and has released several studio albums, including the critically acclaimed Daylight, The Heat, The Reckoning, and Out of Body. Their latest album, Out of Body, released in August 2020, features hit songs like "Hang On," "Who Am I," and "Survival."
Judah & the Lion, on the other hand, is a relatively new band that has been on the rise since the release of their debut album, Kids These Days, in 2014. Their latest album, Pep Talks, released in 2019, features hit songs like "Over my head," "Pictures," and "Why Did You Run?"
NEEDTOBREATHE and Judah & the Lion's performances at the Van Andel Arena are expected to be nothing short of stellar. Fans can expect a night of high-energy and memorable live music from two of the hottest acts in the industry. Tickets for the show are now available and can be purchased online.
Needtobreathe History
Needtobreathe is an American rock band that was formed in Seneca, South Carolina, back in 1998. The band consists of four members, including brothers Bear Rinehart (lead vocals, guitar, and piano) and Bo Rinehart (guitar, backing vocals), Seth Bolt (bass, backing vocals), and Josh Lovelace (keyboards, backing vocals). Over the years, Needtobreathe has become one of the most popular Christian rock bands in the world, known for their energetic live performances, powerful vocals, and heartfelt lyrics.
The band's journey began when Bear and Bo Rinehart started playing music together as teenagers in the late 90s. They initially started as a cover band, playing at small gigs around their hometown, before they started writing their own music and recording demos. In 2001, they released their debut album, "The Feature," featuring songs that were written and recorded in their home studio. The album received critical acclaim, and it led to bigger and better things for Needtobreathe.
The band's breakthrough came in 2006 when they signed with the Christian record label Sparrow Records and released their second album, "Daylight." The album was a huge success, featuring hit singles such as "Shine On" and "Don't Wait For Daylight" and earning the band numerous awards and nominations, including a Dove Award for Rock Album of the Year.
Since then, Needtobreathe has released several more successful albums, including "The Outsiders," "The Reckoning," and "Rivers In The Wasteland," which all topped the Christian charts and received critical acclaim. The band has also collaborated with several other artists, such as Taylor Swift, Gavin DeGraw, and Carrie Underwood, and has toured extensively around the world, playing sold-out shows in some of the biggest venues.
One of the things that set Needtobreathe apart from other bands is their live performances. The band is known for putting on energetic and emotional shows that leave audiences awe-inspired. They play with passion and intensity, and they interact with their fans, making sure that everyone feels like they are a part of the show.
If you are a fan of Needtobreathe and want to experience their live performance, you can purchase their concert tickets online. The band regularly schedules tours and gigs all over the world, and tickets are available on their website or through various ticketing platforms.
Attending a concert by Needtobreathe is an unforgettable experience. The band has a loyal fan base, and the energy and enthusiasm of the crowd are infectious. From the moment the band takes the stage, you will be swept away by their music, and you will feel like you are a part of something special.
In conclusion, Needtobreathe is an incredible band with a rich history and a bright future. They have worked hard to get to where they are today, and their music and live performances are a testament to their talent and dedication. If you are looking for a great concert experience, look no further than Needtobreathe, and make sure to grab your tickets before they sell out.