Nascar Tickets
No Buyer Fees Nascar Tickets - Up to 30% Off Compared to Competitors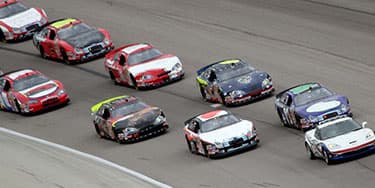 Location:
Select Location (e.g, New York)
About NASCAR
NASCAR Poll to Determine Main Factor Behind Declining TV Views This Year
NASCAR's TV ratings have been significantly lower this year, and attendance at events has been spotty. Viewership for each event prior to Sunday's race has been down. To determine the main factor leading to declining TV views this year, NASCAR is conducting a poll. Fans are encouraged to participate in the poll and vote for the main factor they believe is the cause.
NASCAR Lineup Released for Food City Dirt Race at Bristol Motor Speedway
The Food City Dirt Race at Bristol Motor Speedway is set to take place soon, and NASCAR has released the starting order and pole positions for the race based on qualifying results. Fans can check out the lineup to see where their favorite drivers will start.
Ultimate Camping Experience Announced for July NASCAR Event
AMS has announced a slew of events for its Ultimate Camping Experience during July's NASCAR event. Campers can enjoy track driving opportunities by the NASCAR Racing Experience and Speedway Children's Charities Atlanta, grassroots Legends and Bandolero racing on the ¼ mile Thunder Ring, and parties in the campgrounds and the Peach Pit, all before NASCAR's stars arrive for a weekend full of thrilling racing. The NASCAR Racing Experience Fr8Auctions.com Fireworks Extravaganza will also be free for AMS campers, and it's scheduled for July 4.
Ryan Newman and Bobby Labonte Expected to Join NASCAR Whelen Modified Tour Field at Richmond Raceway
NASCAR veterans Ryan Newman and Bobby Labonte are set to join the field for the NASCAR Whelen Modified Tour race at Richmond Raceway on March 31. Newman has competed in 32 NASCAR Whelen Modified Tour starts dating back to 2008 and has scored four victories. He competed in the Modified Tour race at Richmond last year, leading two laps and finishing 13th. Labonte is a more recent convert to Modified racing, making his debut at Martinsville Speedway.
Chase Elliott Shares Touching Moment with Jimmie Johnson After Winning 2020 NASCAR Title
After winning the 2020 NASCAR title, Chase Elliott shared a touching moment with Jimmie Johnson, his predecessor at Hendrick Motorsports. Johnson congratulated Elliott on his victory, and the two shared a hug.
NASCAR Champ Kurt Busch Promotes Upcoming Chicago Street Race
NASCAR champ Kurt Busch is promoting the upcoming Chicago Street Race during his visit to the city. The unique and unprecedented course for NASCAR has personal connections to Busch, as he is currently a member of 23XI, a NASCAR team co-owned by basketball icon Michael Jordan.
Former Staten Islander Eric Brennan Joins Broadcast Team for CARS Racing Tour
Eric Brennan, a former Staten Islander, has joined the broadcast team for the CARS Racing Tour, which was recently acquired by NASCAR icons Dale Earnhardt Jr., Kevin Harvick, Jeff Burton, and Justin Marks. Former drivers Dale Earnhardt Jr. and Jeff Burton, along with race car driver Kevin Harvick and current NASCAR team owner Justin Marks, formed an ownership group for the series, solidifying its future.
NASCAR Whelen Modified Tour Continues 2023 Season with Talented Rookie Field
The NASCAR Whelen Modified Tour season is in full swing, and the 2023 season has brought in a talented rookie field. Fans can catch all the action as the season continues. NASCAR tickets are available for upcoming events.
NASCAR History
NASCAR, or the National Association for Stock Car Auto Racing, is a motorsport organization that is wildly popular in the United States. It was founded in the late 1940s and has grown to become one of the largest and most lucrative sports leagues in the world. Today, NASCAR races are attended by millions of fans each year, both in person and through television broadcasts.
The history of NASCAR is rooted in the stock car racing culture of the Southern United States. Drivers would modify their cars for racing purposes and compete against each other on dirt tracks and back roads. The first "official" NASCAR race was held in 1948 in Daytona Beach, Florida. The race was won by Red Byron, who drove a modified Oldsmobile.
Throughout the 1950s, NASCAR races continued to gain popularity, attracting drivers and fans from across the country. The organization established a points system and a championship format, and races became more structured and regulated. In 1959, NASCAR opened their first permanent track, the Daytona International Speedway, which became the site of the iconic Daytona 500 race.
In the years that followed, NASCAR continued to grow and evolve. New tracks were opened, including the Talladega Superspeedway in Alabama and the Charlotte Motor Speedway in North Carolina. The cars themselves also changed, with advancements in technology and safety being made to make the sport safer for drivers and spectators alike.
During the 1990s and early 2000s, NASCAR experienced a surge in popularity. Its top drivers, such as Dale Earnhardt, Jeff Gordon, and Tony Stewart, became household names and helped bring the sport to a wider audience. The organization also established partnerships with major corporations, including Coca-Cola and Sprint, which helped to increase its exposure and revenue.
Today, NASCAR continues to host some of the biggest live sporting events in the world. The Daytona 500, considered by many to be the Super Bowl of NASCAR, attracts hundreds of thousands of fans each year. Other major races include the Coca-Cola 600 in Charlotte, the Southern 500 in Darlington, and the Brickyard 400 in Indianapolis.
Attending a NASCAR race is a unique experience unlike any other live sporting event. The atmosphere is electric, with fans cheering on their favorite drivers and the sound of roaring engines filling the air. Many tracks have camping and tailgating areas where fans can spend the entire weekend, soaking up the excitement and camaraderie of the NASCAR community.
Tickets for NASCAR races can vary widely in price depending on the location, the race, and the seating area. However, even the most affordable tickets can provide a thrilling and unforgettable experience. For those who want the full NASCAR experience, VIP and hospitality packages are also available, which offer exclusive access to drivers and other behind-the-scenes perks.
In conclusion, NASCAR is a true American sports icon with a rich history and a passionate fanbase. Whether you're a die-hard racing fan or a casual spectator, attending a NASCAR race is an experience worth savoring. So why not book your tickets today and see what all the excitement is about?