Maluma Tickets
No Buyer Fees Maluma Tickets - Up to 30% Off Compared to Competitors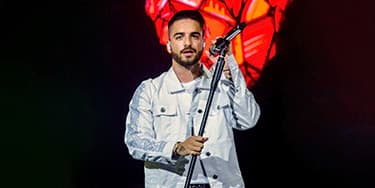 Location:
Select Location (e.g, New York)
Maluma
is not currently performing
About Maluma
As an international music sensation, Maluma is known for his passionate, invigorating, and energetic live performances. His live concerts are a spectacle, an auditory and visual delight that highlights his exceptional talents as an artist. When it comes to Maluma's most popular songs performed live, there are several that fans look forward to at every concert. Taunting his rise to global fame, these songs have managed to create more than a buzz, often dominating music charts worldwide.
"Sin Contrato" is an iconic hit that resonates with his fans. Whenever Maluma performs this song live, it electrifies the audience, further enhancing the concert's atmosphere. The track, which is a part of the "Pretty Boy, Dirty Boy" album, topped music charts in several Latin American countries and made waves in U.S. Latin music circles.
"Hawai", one of Maluma's biggest hits, is also a crowd favorite during live performances. The infectious chorus and relatable lyrics make this song an automatic sing-along tune for the audiences. Its catchy beat and Maluma's charismatic stage presence make "Hawai" one of those performances that fans eagerly anticipate and remember long after the concert is over.
An absolute must at any Maluma concert, "Felices Los 4" guarantees an exhilarating live performance. Its provocative lyrics and catchy rhythm make it a fan favorite, creating an intense atmosphere that resonates with the theme of passion and love that Maluma often explores in his music.
"11 PM," another chart-topping hit, always makes it to Maluma's live performances. As the name suggests, it's a late-night tune perfectly tailored for his younger audience, creating an inviting and relaxed atmosphere that enhances audience engagement.
The energy in the room amplifies when "Borro Cassette" starts playing. This track truly exemplifies Maluma's talent and his unique take on the reggaeton genre. Its upbeat tempo and fun lyrics make it a crowd-pleaser at every live show.
For any Maluma fan, attending his live concert is a must to truly experience the energy and passion he brings to his performances. The environment, the captivating performance, and the roaring crowd all make it an unforgettable experience.
Live events tickets are often sold out quickly due to his popularity, proving the allure of his music transcends geographical boundaries. These tickets are available on various platforms such as Ticketmaster, Live Nation, and other reputable online vendors, ensuring a secure transaction and a guaranteed entry to the concert. The tickets are available in different categories, including VIP packages, which offer fans the chance to enjoy his performance from a premium vantage point and other exclusive benefits.
Maluma's live performances showcase his versatility as an artist, his passionate connection with his fans, and his mastery in creating a unique and enthralling concert experience. With an incredible range of hits, his concerts are a testament to his talent and his position as one of the most exciting artists in the music industry today. Each live event offers a different experience, but the one thing that remains consistent is the exhilarating feeling fans get when Maluma steps on the stage and begins to sing.
Maluma History
Juan Luis Londoño Arias, better known by his stage name Maluma, is a globally renowned Colombian singer, songwriter, and actor who has titillated the heartstrings of millions with his soothing voice and enticing concerts. Born in Medellin, Colombia, on January 28, 1994, Maluma has risen from a local talent to a worldwide sensation, with a history that is as intriguing as his music.
Maluma's passion for music began at a young age, initially leaning towards football, but eventually pivoting towards the art of melodies and rhythms. He made his musical debut with a solo track called 'Farandulera' in 2011, which became a local hit. It was an instant success and led to a record deal with Sony Music Colombia, launching a thriving career that has led Maluma to become a foremost figure in the Latin music industry.
Maluma's history is embellished with spectacular live concerts that are as vibrant and energetic as the artist himself. He is known for creating an irresistible ambiance that leaves audiences mesmerized. The lighting, choreography, sound effects, and most importantly, Maluma's electrifying presence, have been the hallmark of his live concerts. His innate ability to connect with the audience, coupled with his incredible talent, have established him as a true entertainer.
Maluma's first international tour, named after his debut album "Pretty Boy, Dirty Boy," commenced in 2016 and was a phenomenal success. Accompanied by a live band, his concerts revolve around the theme of a racy romance, and they contribute to his reputation as a heartthrob in the Latin music scene. His performances are known for a fusion of reggaeton, pop, and trap music, with a unique touch that is distinctly Maluma's.
The Maluma World Tour, which spanned 2016 and 2017, was another enormously successful endeavor with more than 1 million tickets sold worldwide. The Papi Juancho Maluma World Tour, his latest concert series starting in 2021, promises an even more exciting experience, featuring songs from his fifth studio album and older, beloved hits. The tour also marks Maluma's return to live concerts after a hiatus caused by the COVID-19 pandemic.
Purchasing tickets for Maluma's concerts is an investment in an unforgettable evening of energetic performances and intoxicating rhythms. Tickets generally go on sale months prior to the concert dates and can be obtained from multiple online platforms. Given his immense popularity, tickets tend to sell out quickly, making it imperative to book in advance. The price range varies based on the event venue, the proximity to the stage, and the inclusion of additional amenities such as VIP packages.
Over his career, Maluma has collaborated with multiple international artists, including Shakira, Ricky Martin, and J Balvin, further expanding his influence in the music industry. These collaborations often culminate in surprise guest appearances at his concerts, turning the events into a star-studded celebration of music and dance.
In conclusion, Maluma's history is a testament to his exceptional talent and charisma. His live concerts are a thorough representation of his musical journey, reflecting his passion for performance, his love for his audience, and his dedication towards delivering only the best. Whether you are a longtime fan or new to his music, attending a Maluma concert promises an unforgettable event that transcends the bounds of a typical music performance.