Karol G Tickets
No Buyer Fees Karol G Tickets - Up to 30% Off Compared to Competitors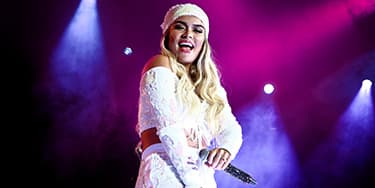 Location:
Select Location (e.g, New York)
Karol G
is not currently performing
About Karol G
Karol G has become one of the biggest names in Latin music thanks to her energetic performances, catchy melodies, and powerful lyrics. Fans from all around the world have been eager to get their hands on tickets for her live shows, where they can experience the full force of her talent and vibrant personality. In this article, we will take a closer look at some of Karol G's most popular live songs and the events where they truly shine.
One of the most iconic songs in Karol G's repertoire is "Tusa," a collaboration with Nicki Minaj that took the world by storm in 2019. The song's catchy beat and relatable lyrics about heartbreak and female empowerment have made it a staple in clubs and parties, but it's in live shows where it truly shines. Karol G has performed "Tusa" in some of the biggest stages in the world, including the Latin Grammy Awards and the Super Bowl halftime show, where she got to share the stage with Jennifer Lopez and Shakira. Every time the song starts playing, the crowd goes wild, singing along to every word and dancing to the beat. "Tusa" has become a cultural phenomenon, and it's easy to see why it's one of Karol G's most popular live songs.
Another song that has become a fan favorite is "Ay, Dios Mío!", a high-energy anthem that showcases Karol G's versatility and charisma. The song's catchy melody and playful lyrics make it perfect for live events, where Karol G can interact with the crowd and get them hyped up. "Ay, Dios Mío!" has been performed in some of the biggest festivals in Latin America, including the Viña del Mar festival in Chile and the Premios Juventud in Miami. In these events, Karol G has proven herself to be a master at engaging with the audience, getting them to sing, dance, and jump to the rhythm of her music.
One song that can't be left out of this list is "Secreto," a romantic ballad that Karol G sings with her fiancé, the Latin trap artist Anuel AA. The song's heartfelt lyrics and intimate tone make it a favorite among couples, and it's often played at weddings and special events. When performed live, "Secreto" becomes a moment of pure emotion, as Karol G and Anuel AA sing to each other on stage and the crowd sings along, holding hands and swaying to the music. "Secreto" shows that Karol G is not only a powerhouse performer but also a vulnerable and romantic artist who can connect with her audience on a deeper level.
Karol G has many other popular live songs, such as "Mi Cama," "Ocean," and "Bichota," each with its own unique sound and vibe. What all these songs have in common is that they showcase Karol G's talent as a live performer, her ability to get the crowd pumped up, and her infectious energy on stage. Fans who have had the chance to see her live know that it's an experience like no other, and they eagerly await the opportunity to attend her next concert.
If you're one of those fans, you know how important it is to get your hands on tickets for Karol G's live shows. Her concerts are known to sell out fast, so it's essential to be on the lookout for announcements and presales. One way to stay informed is to sign up for Karol G's newsletter or follow her on social media. Another option is to use ticketing platforms like Ticketmaster or StubHub, which offer a wide selection of tickets for Karol G's shows around the world.
In conclusion, Karol G's most popular live songs are a testament to her talent, charisma, and stage presence. They are the reason why fans flock to her concerts from all corners of the world, eager to experience the magic of her music firsthand. If you're one of those fans, don't miss the opportunity to see her live and get ready to dance, sing, and feel the rhythm of Karol G's beats.
Karol G History
Karol G is an immensely popular and talented Colombian reggaeton singer, songwriter, and rapper. With her amazing voice and captivating stage presence, she has managed to make a name for herself in the Latin music industry. Born Carolina Giraldo Navarro on February 14, 1991, in Medellin, Colombia, Karol G's love for music began at an early age. She grew up listening to various genres of music, including reggaeton, hip hop, and salsa.
At the age of 14, Karol G began performing at local events and festivals in her hometown. She then decided to move to Bogotá to pursue her music career full-time. It was during this time that she began writing and recording her own music. In 2010, Karol G released her first single, "3 A.M." which was a huge success in Colombia. This was followed by several more hit singles, including "Tu Lugar" and "Ya No Te Creo."
However, it wasn't until 2015 that Karol G's career really took off. That year, she released her debut album, "Unstoppable," which featured collaborations with several well-known artists such as Nicky Jam, Ozuna, and J Balvin. The album was a huge success and helped Karol G establish herself as a major player in the Latin music scene. Since then, she has continued to release hit songs and collaborate with other top artists in the industry.
Karol G's music is known for its catchy beats, powerful lyrics, and unique style. She has been compared to other successful reggaeton artists such as Daddy Yankee and Shakira. However, Karol G has also managed to carve out her own niche in the industry with her distinct sound and style.
In addition to her musical success, Karol G is also known for her amazing live performances. Her concerts are high-energy events that feature incredible visuals, dancers, and of course, Karol G's amazing vocals. Fans flock to her shows to experience the energy and excitement that she brings to the stage.
For those looking to attend a Karol G concert, there are a variety of options for purchasing tickets. Most major ticketing websites such as Ticketmaster and StubHub offer tickets to her shows. Prices can vary depending on the venue and location, but tickets typically range from $50-$150.
One thing to keep in mind when purchasing tickets to a Karol G concert is that they tend to sell out quickly. Fans should make sure to purchase their tickets as soon as possible to ensure that they don't miss out on the opportunity to see Karol G live.
Overall, Karol G is a talented and dynamic artist who has made a name for herself in the Latin music industry. Whether you're a longtime fan or just discovering her music, attending one of her live concerts is an experience you won't soon forget. So don't wait – grab your tickets today and get ready to dance the night away with Karol G!