Kali Uchis Tickets
No Buyer Fees Kali Uchis Tickets - Up to 30% Off Compared to Competitors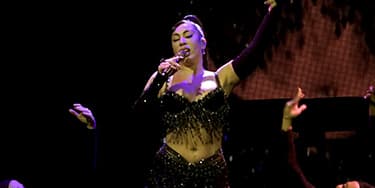 Location:
Select Location (e.g, New York)
Kali Uchis
is not currently performing
About Kali Uchis
Kali Uchis, born as Karly Loaiza, is a Colombian-American singer, songwriter, and record producer. She gained popularity in the music industry with her unique blend of Latin music, R&B, and soul, with a hint of psychedelic pop. Her popularity has only skyrocketed over the years, and her live performances continue to attract a large number of fans worldwide. Here are some of Kali Uchis' most popular live songs.
First on the list is "Loner," which she performed at the Coachella Valley Music and Arts Festival in 2019. This song is a perfect reflection of Uchis' style, with its slow and soulful melody. The audience is treated to her delicate vocal style, which traverses different musical styles as she sings. The song is a portrayal of Uchis' emotions, and the audience can't help but be drawn in.
"Isolation," the title track of her first studio album released in 2018, is another song that has proven to be a hit during live performances. The song exudes an unapologetic and assertive vibe that captures the audience's attention immediately. During Uchis' live performances, the track is often accompanied by a dance routine, which never fails to get the crowd on their feet.
"Telepatía" is arguably one of Uchis' most popular songs ever, and her live performances of the song are no different. In the song, she sings about the power of telepathy in a romantic relationship. The song's catchy beats and Uchis' dreamy vocals make it a crowd-pleaser. The song has amassed over 1 billion streams on Spotify, which speaks to its immense popularity.
"Get You" is yet another popular track that Kali Uchis has performed live on several occasions. The song features Daniel Caesar and is a representation of their effortless musical collaboration. Kali's powerful vocals blend well with Caesar's smooth delivery, making for a captivating performance. The song's message about love is relatable, and Uchis' live performances of the song never fail to captivate the audience.
Another track that has been a hit during Uchis' live performances is "Dead To Me." The song is a perfect showcase of the singer's vocal range and ability to convey strong emotions through her music. The soulful melody is accompanied by a playful music video that showcases Uchis' quirky and fun side. The song has been a favorite among fans, with many singing along to the catchy chorus during live performances.
In conclusion, Kali Uchis is a unique artist, and her live performances never fail to captivate her fans. With her soulful vocals, catchy beats, and relatable lyrics, it's no wonder that she has amassed a massive following worldwide. Her live performances of popular tracks like "Loner," "Isolation," "Telepatía," "Get You," and "Dead To Me" are always an unforgettable experience. If you're a fan, be sure to get tickets to her next live concert to witness her magic firsthand.
Kali Uchis History
Kali Uchis is a Colombian-American singer, songwriter, and producer who has been making waves in the music industry since her debut album, "Isolation," was released in 2018. Born Karly-Marina Loaiza in Alexandria, Virginia, Uchis grew up in the United States and Colombia, and draws inspiration from a diverse range of musical genres, including soul, R&B, and reggaeton.
Uchis began her music career in the early 2010s, releasing a series of mixtapes and collaborations with other artists, including Tyler, the Creator, Snoop Dogg, and Gorillaz. Her breakthrough moment came in 2017, when she was featured on Daniel Caesar's hit song "Get You," which earned her widespread recognition and critical acclaim.
Following the release of "Isolation," Uchis embarked on a successful worldwide tour, performing her unique blend of Latin and American music to adoring fans across the globe. Her live concerts are known for their high energy, stunning visuals, and Uchis' powerful vocals, which have been compared to those of legends like Amy Winehouse and Billie Holiday.
Fans who want to experience the magic of a Kali Uchis live concert event can purchase tickets through a variety of online ticket vendors, such as Ticketmaster or StubHub. Prices for tickets vary based on the location and venue, as well as the popularity of the event. For example, tickets for Uchis' upcoming show at the Hollywood Palladium in Los Angeles range from $60-$120, depending on the seat location.
In addition to her live concerts, Uchis has also been known to surprise fans with impromptu performances and pop-up shows. In 2019, she performed a surprise set at Coachella, joining J Balvin on stage to perform their hit song "I Like It." She has also been known to perform at small venues and bars, giving fans a chance to see her up close and personal.
As her fame and popularity continue to grow, fans are eagerly anticipating Uchis' next live concert event. Whether she performs at a major festival or a small club, fans can expect to be swept away by her unique sound and dynamic stage presence. With tickets selling fast, those who want to see Uchis live should act quickly to secure their spot at one of her upcoming shows.