Jordan Davis Tickets
No Buyer Fees Jordan Davis Tickets - Up to 30% Off Compared to Competitors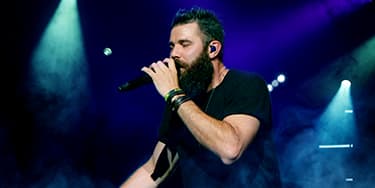 Location:
Select Location (e.g, New York)
About Jordan Davis
Country music sensation, Jordan Davis, continues to turn up the heat in the live entertainment industry with an exciting line-up of tour dates. A firm favorite among fans, Davis is recognized for his lively, upbeat performances that are often sold out due to the high anticipation surrounding his shows.
An exciting announcement for his fans is that Davis' "Damn Good Time Tour" will be making a much-anticipated stop at the popular Resch Center. This electrifying event is set to take place on September 9, contributing to the wave of country music tours that have been sweeping through the venue.
Davis' on-stage charisma and engaging performances have led to his growing popularity as a country music artist. Aside from his music, he is also known for his love of cooking. In a recent interview, he shared his plans for a 4th of July gathering with his friends and family, where he would be showcasing his culinary skills. "I love cooking for people," he said, showing his fans a more personal side to him.
His unique blend of personal charm, musical talent, and zeal for life extends to all aspects of his career. Fans have the chance to sample his captivating on-stage presence when he plays at the Hollywood Casino, an event that promises to be as exciting and upbeat as the artist himself.
Whether he's cooking up a storm for a 4th of July gathering, or lighting up the stage, Jordan Davis continues to be a rising star in the country music scene, and a household name in the live entertainment industry. His upcoming performances at the Resch Center and Hollywood Casino mark yet another chapter in his remarkable journey, offering audiences the chance to witness his sensational talent firsthand.
Jordan Davis History
Jordan Davis is a renowned name in the country music genre. The acclaimed artist has gained significant prominence over the years thanks to his distinctive style and unique approach to music. His rise in the music industry has been both steady and impressive, and this has been reflected in his live concerts, events, and ticket sales.
Born and raised in Shreveport, Louisiana, Davis grew up in a house filled with music. With a mother who enjoyed playing the piano and a father who was a great fan of country music, Davis was introduced to this genre from an early age. This early immersion helped shape his musical preferences and ultimately, his career. He got his earliest start performing in church choirs and local talent shows.
Davis moved to Nashville to pursue his music career after graduating from Louisiana State University with a degree in environmental science. It was in this city filled with music culture and talent that Davis began immersing himself in songwriting and performing. He started playing in various local spots, gradually making a name for himself within the music scene.
In 2016, Davis's talent was recognized by Universal Music Group, and he was signed on. His debut single, "Singles You Up," was released in 2018 and was a huge success, reaching the top of the Billboard Country Airplay chart. His first album, "Home State," was released in 2019 and reached number 6 on the Billboard Top Country Albums chart.
As a live performer, Davis is known for his electrifying shows. His live concert events are a testament to his genuine passion for music and his mastery of the country style. Davis commands every stage he steps on with his distinctive voice, compelling storytelling, and charisma, drawing in the crowd with every song he performs. His concerts often sell-out, proving his popularity and the high demand for his performances.
Davis's concert tickets are commonly sought after. Given the power and energy that he brings to each performance, it comes as no surprise that fans across the globe eagerly wait for the chance to see him live. His tours have taken him across various cities and venues, allowing him to connect with fans from different backgrounds and cultures. Each of his concerts offers a unique experience, blending his hits with the raw, authentic moments that live events uniquely provide.
Coming off successful years in his career, Davis shows no signs of slowing down. He continues to produce new music, and his live concerts continue to sell rapidly. Aside from his music and performances, Davis is recognized for his signature long beard, which has become iconic within the country music scene. With his unique blend of traditional country themes and contemporary styles, Davis has truly made a name for himself.
In conclusion, Jordan Davis's history is one filled with hard work, dedication, and pure talent. He has shown that he has the ability to connect with audiences through his music, whether it's a heartfelt ballad or an upbeat country track. And as he continues to perform live concerts and events around the world, it's clear that Davis is on a steady path towards becoming one of the key figures in the country music genre.