Greensky Bluegrass Tickets
No Buyer Fees Greensky Bluegrass Tickets - Up to 30% Off Compared to Competitors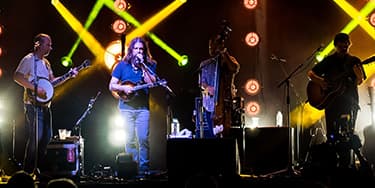 Location:
Select Location (e.g, New York)
Greensky Bluegrass Events Nearby
About Greensky Bluegrass
Greensky Bluegrass is a captivating bluegrass band that has been winning the hearts of music enthusiasts for over two decades. And, when it comes to their live performances, they deliver an energy-packed experience that resonates with their fans. There is no denying that Greensky Bluegrass is a master of live performances, and their musical talent is evident in some of their most popular live songs that will get your feet tapping.
One of Greensky Bluegrass's most popular live songs is "Windshield." This song is a perfect example of the band's unique sound, and it showcases their ability to combine traditional bluegrass elements with modern tones. The song features an upbeat rhythm, and the band's vocal harmonies are impeccable. The lyrics take you on a journey, and the chorus is a sing-along that is sure to get you pumped up.
Another fan favorite is "Don't Lie." This song has become a classic for Greensky Bluegrass fans, and it's easy to see why. The opening riff is infectious, and the song is a perfect blend of traditional bluegrass and rock 'n' roll. The lyrics tell a compelling story, and the song builds to an exciting climax that will leave you wanting more.
"Living Over" is yet another exciting song that gets the crowds going. This song has a fast-paced rhythm, and it's full of energy. The lyrics are filled with emotion, and they make you feel like you're part of the story. The song's instrumental breaks showcase the band's musical talent, and the whole performance is nothing short of a high-energy thrill ride.
"Leap Year" is another live favorite from Greensky Bluegrass. This song has a unique sound, and it's a perfect example of the band's versatility. The song starts with a mellow intro, and it slowly builds up to an explosive climax. The lyrics are poetic, and they showcase the band's songwriting prowess.
Lastly, we have "All Four." This song is a Greensky Bluegrass fan favorite, and it's easy to see why. The opening riff is catchy, and the song has a fast-paced rhythm that gets the crowds moving. The lyrics are full of imagery, and the song's instrumental breaks showcase the band's musical talent. "All Four" is a perfect example of Greensky Bluegrass's ability to blend traditional bluegrass with modern elements.
In conclusion, Greensky Bluegrass is an incredible live act that always delivers a memorable performance. Their most popular live songs are a testament to their musical talent, versatility, and ability to connect with their audience. If you're a fan of live music, then you don't want to miss out on seeing Greensky Bluegrass live in concert. With their upcoming tour dates and tickets selling fast, be sure to purchase your tickets to their live shows and experience the magic of Greensky Bluegrass's live performances!
Greensky Bluegrass History
Greensky Bluegrass is a band that has been making waves in the bluegrass community since their formation in Kalamazoo, Michigan in 2000. While they are rooted in traditional bluegrass, their sound is a blend of genres, incorporating elements of rock, folk, and Americana. They have developed a devoted fan base that eagerly anticipates their live shows, which are known for their high-energy performances and improvisational jams.
The band consists of five members, Dave Bruzza on guitar, Paul Hoffman on mandolin and vocals, Anders Beck on dobro, Michael Arlen Bont on banjo, and Mike Devol on upright bass. They quickly gained popularity in their hometown and surrounding areas, and by 2004, they had self-released their debut album, "Less Than Supper."
Over the years, Greensky Bluegrass has released a number of critically acclaimed albums, including "Handguns," "Five Interstates," and "All for Money." Their music has earned them a devoted following, and they have performed at major festivals such as Bonnaroo, Newport Folk Festival, and Telluride Bluegrass Festival. Their live shows are a testament to their musicianship and energy, and they have built a reputation as one of the best live bands in the business.
One of the unique aspects of Greensky Bluegrass's live shows is their improvisational jams. They are known for seamlessly transitioning from one song to the next, sometimes incorporating covers and unexpected musical twists. This improvisational style allows them to connect with their audience in a way that few bands can, creating a shared experience that is unique to each show.
For fans looking to attend a Greensky Bluegrass concert, tickets are available through a variety of sources. The band's website lists upcoming shows and provides links to ticket vendors, including Ticketmaster and StubHub. Fans can also purchase tickets through venues or local ticket outlets.
For those looking for a more immersive experience, Greensky Bluegrass offers a VIP package that includes early entry to the venue, access to a soundcheck party, meet and greets with the band, and exclusive merch items. These packages are limited, so fans should act quickly to secure their spot.
In addition to their live shows, Greensky Bluegrass has also embraced technology to connect with their fans. They frequently post videos and live recordings on their website and social media channels, offering fans a chance to experience their music even if they can't attend a live show. This digital presence has helped them reach new fans around the world, expanding their reach beyond their traditional bluegrass roots.
Overall, Greensky Bluegrass's success can be attributed to their musicianship, energy, and dedication to their craft. Their live shows are a testament to their commitment to their fans, and they continue to push the boundaries of traditional bluegrass while staying true to their roots. For those looking to experience the magic of a Greensky Bluegrass concert, tickets are available through their website and other ticket vendors, and their VIP packages offer a unique and unforgettable experience.