G Herbo Tickets
No Buyer Fees G Herbo Tickets - Up to 30% Off Compared to Competitors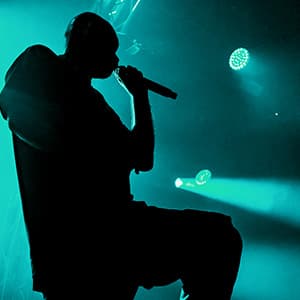 Location:
Select Location (e.g, New York)
About G Herbo
Rolling Stone magazine named G Herbo as one of Chicago's brightest hip hop artists because he never fails to deliver an amazing performance. He's known for his captivating live shows, with riveting performances that often leave the crowd chanting for more. Experiencing G Herbo perform live is like a breath of fresh air in the hip-hop scene. His lyrical brilliance, combined with his energy and stage presence, is a spectacle that is worth every penny.
Some of G Herbo's most popular live songs include "PTSD," "Swervo," and "I'm Rollin." These songs have become concert staples, consistently whipping the crowd into a frenzy with their incredibly catchy hooks and compelling narratives.
"PTSD" is a clear favorite when performed live. This track, from his album of the same name, samples "Come and Go" by Juice WRLD and deals with Herbo's struggles with post-traumatic stress disorder as a result of living in a violent neighborhood in Chicago. This song resonates with many fans who can relate to the themes of hardship and resilience. The palpable emotion in Herbo's delivery combined with the anthemic melody makes for a memorable live experience.
"Swervo," a collaboration with Southside, is another fan-favorite that lights up the live stage. This song exudes a dynamic energy that perfectly complements G Herbo's intense style and stage presence. The brash, unapologetic lyrics paired with a thumping beat never fail to energize the crowd, creating a highly engaging concert atmosphere.
"I'm Rollin," off the Ballin Like I'm Kobe mixtape, is another track that shines in a live setting. The catchy chorus and heavy base make it the perfect hype song, and the crowds always respond with fervor when the opening bars start playing. The 'turnt' vibe of this song brings an undeniable infectious energy to his shows, demonstrating the power of G Herbo's ability to connect with his audience.
A G Herbo concert is not just about the music, but more about the experience, the energy, the connection, and the raw, authentic storytelling that strikes a chord with so many of his fans. His live performances are a testament to his natural talent and showmanship, and the crowd's reaction to his music is truly something to behold.
Whether you're a die-hard fan or a casual listener, purchasing a ticket to a G Herbo concert is an investment in an unforgettable experience. As live events are slowly making a comeback, there's an undeniable buzz of anticipation for G Herbo's upcoming shows. Secure your spot to avoid missing out on the chance to see this incredible artist perform his popular songs live.
In conclusion, the popularity of G Herbo's live songs is not solely due to their catchy hooks and compelling lyrics. It's the raw energy and emotion he brings to the stage that make his performances so unforgettable. If you have a chance to grab some tickets for his live show, you should definitely take it. You will not only experience the fantastic live renditions of his popular songs, but also be part of the electrifying atmosphere that only a G Herbo concert can provide.
G Herbo History
G Herbo, born as Herbert Wright III, is a well-known American rapper and songwriter. Born on October 8, 1995, in Chicago, Illinois, Herbo quickly gained recognition for his music, standing out from the crowd with his visceral narratives on urban hardship. However, it's not just his recorded music that has won him a legion of fans. G Herbo's live concerts are a spectacle that draws thousands of enthusiastic supporters, making them a crucial part of his music career.
Herbo's journey started back in 2012 when he, as part of the duo Lil Herb and Lil Bibby, gained popularity with their song "Kill Shit". In 2014, he dropped the "Lil" from his stage name and adopted G Herbo. It was his mixtape 'Welcome to Fazoland' which truly put him on the map, where he detailed the harsh realities of life in his Chicago neighborhood.
Moving forward, G Herbo's debut studio album "Humble Beast" released in 2017 debuted at number 21 on the Billboard 200, making quite a splash in the industry. But what has taken Herbo's popularity to the next level have been his live concerts. His shows go beyond mere performance; they are an experience, an electrifying display of his raw talent.
Herbo's concerts are unique in that they tug at the audience's emotions while entrancing them with intense, melodic beats. He has the power to make the crowd resonate with his music as he raps about his struggles with mental health, gun violence, and societal pressures. Over time, G Herbo has grown an enormous fanbase that fills concert venues to the brim, eager to see him perform.
Tickets to G Herbo's live concerts are highly sought after. Whether he is headlining his own show or performing as a guest at music festivals, Herbo's tickets are known to sell out fast. This demand for tickets is a testament to his influence and reputation as an electric live performer.
His performances have a way of creating a connection with his audience, a communal feeling that only strengthens his bond with his fans. He often interacts with the crowd, creating unforgettable moments and making his shows must-attend events. These concerts are not just about music, but about a shared experience, about being part of something larger.
One of the most celebrated concerts by G Herbo was at the Concord Music Hall in his hometown Chicago, where he put a spellbinding performance and had the audience swaying to his beats. Another notable mention is his performance at the Rolling Loud Festival in Miami, where he delivered a powerhouse performance, proving his mettle as an artist.
G Herbo's live concerts offer a peek into his journey from the streets of Chicago to the glitz of fame. Through his music, he paints a vivid picture of his life experiences, making his concerts resonate with realness and raw authenticity. The way he weaves stories with his lyrics combined with his energetic performance style makes G Herbo's concerts well worth the ticket price.
In the end, G Herbo remains a testament to the power of music, in recording and in live performance. His concerts continue to draw massive crowds, his tickets keep selling out, and his reputation as an artist continues to soar. Though he's already accomplished much, it's clear that G Herbo's journey in music and live performances is far from over.