Fort Wayne Komets Tickets
No Buyer Fees Fort Wayne Komets Tickets - Up to 30% Off Compared to Competitors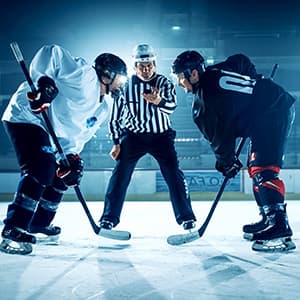 Location:
Select Location (e.g, New York)
About Fort Wayne Komets
The Fort Wayne Komets, a professional ice hockey team based in Fort Wayne, Indiana, has been a staple of the ECHL (formerly known as the IHL) for over six decades. The team has a storied history, boasting nine championships and numerous talented players over the years. In recent years, the Komets continue to draw crowds with their exciting performances and highlights on the ice.
One of the team's biggest highlights in recent years was their 2017-18 season, where they won the ECHL Central Division Championship. This was the team's first division title since the 2011-12 season. The Komets continued to dominate in the playoffs, defeating the Cincinnati Cyclones in the first round and the Toledo Walleye in the second round. They eventually fell to the Colorado Eagles in the Western Conference Finals, but their impressive performance throughout the season and playoffs was a major highlight for fans.
In addition to their team achievements, the Komets have had numerous standout players in recent years. During the 2018-19 season, forward Justin Hodgman led the team with 69 points (23 goals, 46 assists) in 56 games. He was named an ECHL All-Star for his stellar performance. Other notable players include Shawn Szydlowski, who has spent eight seasons with the Komets and is the team's all-time leading scorer, and goaltender Lukas Hafner, who set a new Komets record with 46 saves in a single game during the 2019-20 season.
Fans of the Komets have also been treated to exciting live sports events in recent years. The Allen County War Memorial Coliseum, where the Komets play their home games, has a seating capacity of over 10,000 and is always packed with enthusiastic fans. The arena has undergone numerous renovations in recent years, including upgraded video and audio systems and improved concession and merchandise stands. This has made attending a Komets game even more enjoyable for fans.
Attending a Fort Wayne Komets game is a must for any ice hockey fan. The atmosphere in the arena is electric, with fans cheering on their team and engaging in lively chants throughout the game. The team also hosts numerous special events throughout the season, such as Military Appreciation Night and Pink the Rink Night, which raise awareness and funds for various causes.
For those looking to attend a Komets game, tickets are readily available online or at the arena box office. Prices vary based on seating location and opponent, but fans can expect to pay anywhere from $15 to $35 for a single game. Season tickets and group tickets are also available, making it easy to experience the excitement of Komets hockey on a regular basis.
In conclusion, the Fort Wayne Komets continue to be a force to be reckoned with in the ECHL. From their impressive performances on the ice to their exciting live sports events, the team has a lot to offer fans. Attending a Komets game is a must for any ice hockey fan, and with tickets readily available, there's no excuse not to check out this exciting team in action.
Fort Wayne Komets History
The Fort Wayne Komets are a professional ice hockey team based in Fort Wayne, Indiana. They were founded in 1952 and have been a staple of the city's sports scene ever since. The Komets have a rich history filled with championship wins, passionate fans, and dedicated players.
The Komets have won 9 championships in their history, with the most recent being in 2020. They have also made it to the playoffs 68 times in their 69 seasons, making them one of the most successful teams in North American hockey history. The Komets have attracted many talented players over the years, including NHL legends such as Bobby Orr, Reggie Leach, and Terry Sawchuk.
One of the reasons the Komets have been so successful is due to the passionate fan base they have cultivated over the years. Komets games are an event in Fort Wayne, with fans decked out in orange and black cheering on their team at every game. The atmosphere at a Komets game is electric, with the ice rink surrounded by screaming fans and the sound of skates cutting through the ice.
Attending a Komets game is something that everyone in Fort Wayne should experience at least once. There's nothing quite like the excitement of live sports, and the Komets are a prime example of that. From the moment you step into the arena, you can feel the energy and excitement of the crowd, and it only gets better as the game goes on.
Of course, in order to attend a Komets game, you'll need tickets. Fortunately, getting tickets to a Komets game is easy. You can purchase them online through the team's website, or at the box office on game day. The Komets offer a variety of ticket packages, including single game tickets, season tickets, and group tickets.
If you're a die-hard fan, season tickets are the way to go. Not only do they save you money on each game, but they also come with some great perks. You'll get exclusive access to meet-and-greets with the players, special events throughout the season, and even a dedicated season ticket holder concierge service.
If you're looking to attend a game with a group of friends or family, group tickets are a great option. You can save money on tickets when you purchase them in a group of 10 or more, and you'll also get some great benefits, like a personalized welcome message on the video board and a group photo on the ice after the game.
Overall, the Fort Wayne Komets are a beloved sports team with a rich history and a passionate fan base. Attending one of their games is an experience you won't forget, and getting tickets is easy. Whether you're a longtime fan or a first-time attendee, a Komets game is an event you won't want to miss.