Dan And Shay Tickets
No Buyer Fees Dan And Shay Tickets - Up to 30% Off Compared to Competitors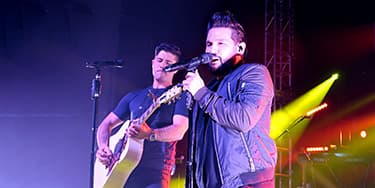 Location:
Select Location (e.g, New York)
About Dan and Shay
Dan + Shay, made up of musicians Dan Smyers and Shay Mooney, have made a strong name for themselves in country music, with a distinct sound that draws in large crowds eager to experience their most popular songs at live events. Over the years, the duo has released numerous chart-topping hits that have become fan favorites. There is something magical about attending a live concert of Dan + Shay, the palpable excitement, the music reaching deep into your soul, and the chance to see firsthand the duo's incredible talent. Live events and tickets for Dan +Shay's concerts are always in high demand, thanks to their dynamic performances and the infectious energy they bring on stage.
Arguably, one of their most popular live songs is "Tequila." This Grammy-award winning single is a perfect blend of country and pop, leading to a passionate rendition on stage that makes the crowd go wild. The narrative lyrics about love and loss resonate with many, and hearing it live adds a whole new level of emotional depth. The anticipation leading up to this song during a concert is always palpable, and the cheers when the first few bars are played signifies fans' love for this hit. Ticket holders invariably find their investment well worth it.
Another song that fans love to hear live is "Speechless." This love song, inspired by their wives, is a beautiful testament to their songwriting capabilities. During live performances, the duo often introduces the song by sharing personal stories about their spouses, adding a touch of intimacy to the event. The duo's harmonies on this song are awe-inspiring and experiencing it live is as close as it can get to feeling like a part of something truly special.
Equally popular at live events is their hit "From The Ground Up". This song pays homage to their grandparents' love story, and it instantly strikes a chord with the audience. The deep sentiments in the song and the way they perform it make the crowd connect instantly. Fans who have splurged on tickets for the front rows often find themselves reaching for tissues during this touching performance.
"Nothin' Like You," a song from their debut album Where It All Began, is also a fan favorite. The upbeat tempo is perfect for a live concert setting, getting the audience on their feet and dancing along. Fans revel in the opportunity to let loose and have a good time during this song.
One of the duo's latest hits, "10,000 Hours", a collaboration with Justin Bieber, is also popular on the live concert circuit. This song is a massive hit and fans eagerly wait to hear it live. The duo's perfect pitch, combined with their high-energy performance, makes it one of the high points of the concert.
These live performances are electrifying and are a testament to the duo's captivating stage presence. Fans who have attended their concerts often cite how the duo's passion and raw talent are even more evident during live performances, making the cost of tickets worthwhile. The powerful, emotive renditions of their popular songs leave concertgoers with an unforgettable experience. For those yet to witness Dan + Shay live, it is an event that must absolutely be added to your bucket list.
Dan and Shay History
Dan and Shay, a dynamic American country music duo, has emerged as one of the most popular acts in the industry since forming in 2012. The duo consists of vocalists and songwriters Dan Smyers and Shay Mooney, who together form a powerful combination of artistry and musicianship that has left an indelible mark on the country music scene. Dan was born in Wexford, Pennsylvania, while Shay hails from Natural Dam, Arkansas, and the pair met in Nashville, Tennessee. Their convergence created a fusion of unique sounds and distinctive lyrics that define their musical style.
Since their inception, Dan and Shay have had a great number of live concert events. Their loyalty to their fans has seen them spend a lot of time on the road, performing live in front of packed audiences. The thrill of a live Dan and Shay concert is often associated with their remarkable harmonies, high-energy performance, and the powerful lyrics that resonate with their fans.
With countless awards and nominations to their name, including the Grammy Awards and the Country Music Association Awards, Dan and Shay have become a hot-ticket item, with fans clamoring to see them perform. Their concerts often sell out quickly, a testament to their broad appeal and testament to their success on the music charts.
When it comes to tickets for their live concert events, Dan and Shay have always aimed to make their shows accessible to as many fans as possible. Their tickets typically vary in price based on venue, location, and ticket type, ranging from affordable general admission tickets to more exclusive VIP experiences. However, regardless of the ticket type, concert-goers are guaranteed an incredible show.
Their tours have taken them across the US and other parts of the world, and they've shared the stage with other prominent country music acts such as Hunter Hayes and Blake Shelton. In 2019, their self-titled album's success sparked the "Dan + Shay The (Arena) Tour," their first headline arena tour, which sold out large-capacity venues across the country, including two nights at Nashville's Bridgestone Arena.
Their live performances showcase their ability to blend different musical styles, drawing influences from country, pop, and rock. Concert-goers often praise Dan and Shay for their engaging stage presence and their ability to connect with their audiences, making their concerts a deeply immersive experience.
Several of their most well-loved songs, such as "Tequila," "10,000 Hours," and "Speechless," often provide the most memorable moments of their live shows. The duo's heartfelt performances of these chart-topping hits result in undeniable audience sing-alongs, creating an atmosphere that exemplifies the magic of live music.
Despite the challenges brought on by the COVID-19 pandemic, Dan and Shay continue to find ways to engage with their fans, including through virtual concerts and live-streamed events.
Over the years, Dan and Shay's live concerts have proven to be unforgettable experiences. Their powerful vocals, compelling lyrics, and charismatic stage presence are a testament to their massive appeal. Despite their already momentous success, the future continues to look bright for Dan and Shay, as they continue to create music and perform live, much to the delight of their fans worldwide.