Common Kings Tickets
No Buyer Fees Common Kings Tickets - Up to 30% Off Compared to Competitors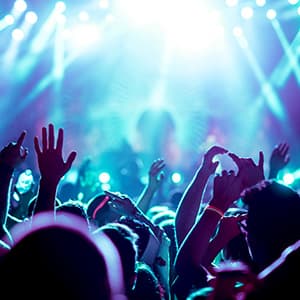 Location:
Select Location (e.g, New York)
Common Kings Cities & Venues
About Common Kings
Common Kings, an American Reggae band from Orange County, California, have grown in popularity over the past decade, showcasing their unique blend of rock, reggae, and RnB elements with Polynesian influences. Their energetic live performances are captivating and their shows often sell out quickly, meaning that fans need to be on the ball when it comes to securing tickets.
There are several live songs that have cemented their reputation and become firm favorites among fans. One such song is "Alcoholic." This light and upbeat track is a feel-good anthem that immediately gets the crowd dancing. The infectious rhythm, catchy hook, and playful lyrics make it a standout moment in any Common Kings concert, and it's no wonder that tickets for these live shows fly off the shelves.
Another hit song for Common Kings is "Wade in Your Water." The song's live rendition draws an energetic response from fans in the audience, who sing along to its romantic lyrics with gusto. The blissful melody, soulful vocals, and engaging harmonies create a magical moment during their concerts, providing fans with an unforgettable experience. It's one of those songs that truly encapsulates the band's reggae-infused sound, and a performance that fans wouldn't want to miss.
"Lost in Paradise," the title track of their debut album, is also among the most popular live songs. The euphoric and uplifting song, recounting the band's love for their homeland, resonates with the audience's emotions, often leaving them swaying to the rhythm and singing along to the chorus. The song is a showcase of the band's masterful command of melody and rhythm, making it a must-see performance for any fan and a compelling reason to buy tickets to their shows.
"No Other Love" is a song that fans eagerly anticipate at every Common Kings live performance. The song, which features renowned reggae artist J Boog, is a heartfelt declaration of love and commitment. It's a true crowd-pleaser, with fans singing along to every word. The emotional resonance and beautiful melody of "No Other Love" make it a highlight of any Common Kings concert.
Common Kings concerts are known for their high energy, crowd involvement, and the genuine joy and passion the band members bring to their performances. Fans looking to experience these popular live songs should keep an eye out for ticket releases. Tickets to their shows often sell out quickly due to their growing popularity and the intimate atmosphere they create at their concerts.
In conclusion, Common Kings have a series of popular live songs that captivate their audiences and make their concerts memorable experiences. Fans looking to sing along to "Alcoholic," "Wade in Your Water," "Lost in Paradise," and "No Other Love," should ensure they secure their tickets early. Whether you're a long-time fan of this American Reggae band or a recent convert, one thing is certain - you'll leave their concert with their catchy tunes replaying in your head and a renewed appreciation for their unique sound.
Common Kings History
Common Kings is a band best known for their unique and dynamic fusion of traditional reggae, rock, and pop, characterized by polished rhythms and catchy melodies. Based in Costa Mesa, California, their roots trace back to the South Pacific, which deeply influences their sound. The group consists of lead vocalist Sasualei "Junyer King" Maliga, guitarist Taumata Grey, drum player Jerome Taito, and bassist Ivan Kirimaua. Each member brings a unique flair for creating an alluring musical blend that stands out in today's music industry.
Common Kings first made waves in the music scene with their debut EP, "Alcoholic," released in 2013. It was followed by their full-length album, "Lost in Paradise," in 2017. The album hit #1 on the Billboard Reggae Chart and was nominated for a Grammy for Best Reggae Album, a clear testament to the group's talent and appeal.
But it's not just about studio recordings with Common Kings. Their live performances are an entirely different, and perhaps even more exciting, experience. Their concerts are often described as electrifying, with a visceral energy that sweeps over the crowds. Whether they are performing in crowded stadiums or intimate venues, their raw energy, tight musicality, and engaging presence always leave the audience wanting more.
Over the years, this talented quartet has toured extensively, playing at numerous festivals and concerts across the globe. Their exciting live performances have allowed them to share stages with renowned acts such as Meghan Trainor and Justin Timberlake, showcasing their talent on a global platform.
Ticket sales for Common Kings' live events are known to sell out fast, as fans scramble to secure a chance to experience their intoxicating music firsthand. Their popularity has only grown over the years, with their live concerts becoming highly anticipated events.
Their on-stage performances embody a distinctive vibe that is inherently 'Common Kings.' It is here that their music comes to life most vividly, transforming from recorded tracks into an explosive, sensory experience. The band's engaging stage presence, coupled with their unique blend of musical styles, makes for an electric atmosphere that resonates with every concertgoer.
Live concert events also offer fans the opportunity to interact with the band more intimately. The band members are known to be deeply passionate, not just about their music but also their fans. They engage with their audience, both on and off stage, recognizing them for their unwavering support and appreciating their role in the band's success.
The tickets to Common Kings' live concerts have become hot commodities in the music scene. They provide fans with the opportunity to not just listen to their music, but to immerse themselves in the band's world, absorb their energy, and experience their craft up close and personal.
In short, Common Kings is a dynamic band with deep-rooted talent and charisma, both in the recording studio and on stage. Their live concerts are a testament to their combined skills, immense passion, and their unyielding dedication to their audience. For every admirer of music, especially reggae, rock, and pop fusion, securing tickets to a Common Kings concert promises an unforgettable musical experience.