Colorado Ballet Tickets
No Buyer Fees Colorado Ballet Tickets - Up to 30% Off Compared to Competitors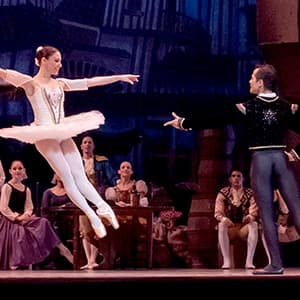 Location:
Select Location (e.g, New York)
Colorado Ballet Cities & Venues
About Colorado Ballet
The Colorado Ballet is renowned for its unique performances and enchanting interpretations of popular live songs. The company has established a reputation for presenting high-quality productions that appeal to a wide audience, and the music used in their performances is often one of the most memorable aspects. It will be worth buying tickets to see these live events that often showcase some of the most beloved and well-known ballet pieces.
One of the most popular live songs that Colorado Ballet has ever used is Tchaikovsky's score for "The Nutcracker." This ballet piece is a holiday classic and is a hugely popular event in Colorado Ballet's program each year. The intricate instrumentation and sweeping melodies of this piece are performed live with exquisite precision, making it a much-anticipated presentation. Tchaikovsky's music, particularly the Dance of The Sugar Plum Fairy, is the highlight for many spectators, with its enchanting melodies and rich harmonies perfectly complementing the stunning choreography.
Often sold out, another popular song frequently used in Colorado Ballet's performances includes Prokofiev's 'Romeo and Juliet.' The rich, emotional music is a significant aspect of this well-loved ballet, and it brings Shakespeare's tragic narrative to life in a way that is both poignant and deeply moving. Moreover, the compelling piece, 'Montagues and Capulets,' otherwise known as 'Dance of the Knights,' is a crowd favorite, famed for its dramatic and powerful melodies.
Colorado Ballet's presentations of "Giselle" are breathtaking, and the music that accompanies the dancers is just as beautiful. The ballet's hauntingly beautiful score by French composer Adolphe Adam is performed live, adding significantly to one's experience. The music is emotionally stirring and coupled with the dance, effectively conveying the love story of Giselle and Albrecht.
Colorado Ballet's performance of "Dracula" has become a fan favorite, particularly due to its haunting score by Philip Feeney. The dramatic and atmospheric music conveys the tale's dark, mysterious nature, captivating the audience and creating a truly immersive experience.
The ballet company is also known for its performances set to music by modern composers. For instance, the Colorado Ballet's rendition of "Carmina Burana," with Carl Orff's famous score, showcases the company's versatility and ability to convey a wide range of emotions through their choreography.
Seeing the Colorado Ballet perform live is an unforgettable experience, blending the dancers' grace and agility with the beautiful melodies of classic and contemporary ballet music. Each year, the company presents a variety of performances that showcase their impressive skills and captivating musical selections. The live music used in Colorado Ballet's performances adds a unique dimension to their shows, making the events feel even more special and enhancing the overall experience.
If you're hoping to catch one of Colorado Ballet's performances, make sure to purchase tickets well in advance, as their shows tend to sell out quickly, particularly when they're performing to these popular live scores. From "The Nutcracker" to "Giselle," Colorado Ballet's live performances are awe-inspiring events that should not be missed. The company's skillful blending of dance and music creates an unforgettable experience for all those in attendance.
Colorado Ballet History
The Colorado Ballet is a renowned ballet company with an illustrious history dating back to the late 1960s. Over the decades, it has grown into an integral part of Colorado's unique cultural tapestry, offering diverse performances ranging from classical ballet to innovative, contemporary pieces. Its performances have become staple live theater events for those who appreciate the artistry and athleticism of dance, and many eagerly anticipate the announcement of performance schedules and the release of tickets each season.
The Colorado Ballet was founded in 1951 as a ballet school and transformed into a professional company in 1961 by its founders, Lillian Covillo and Freidann Parker, with the mission to present high-quality ballet performances for the enjoyment and education of Colorado residents and visitors. The founders' vision was to make ballet accessible to everyone and provide affordable tickets for all income levels.
From its inception, the Colorado Ballet was committed to producing extraordinary performances, blending traditional and experimental ballet styles. The company began with just one dozen dancers, and today it boasts an ensemble of over 30 professional dancers from all over the world.
The company also forged a relationship with the prestigious American Ballet Theatre (ABT) in its early days, which gave the Colorado Ballet an immediate aura of credibility and gravitas. This partnership allowed the company to perform ABT's productions, exposing Colorado audiences to a range of classical ballet repertoire not typically seen in the region at the time.
Over the years, Colorado Ballet has expanded its repertoire to include not only classic pieces such as "The Nutcracker" and "Swan Lake" but also innovative contemporary works. Its commitment to artistic excellence has earned the company national recognition and has attracted world-class choreographers who have contributed to the ever-evolving performances that the company stages.
Under the leadership of Artistic Director Gil Boggs, the Colorado Ballet continues to reach new heights. The company's annual seasons now include more than fifty performances, showcasing a mix of classics, contemporary ballets, and new works. These live events are held at the Ellie Caulkins Opera House, a historic, world-class venue located in the heart of Denver.
In addition to its regular season, the Colorado Ballet is known for its commitment to community outreach and education. The company educates and inspires more than 35,000 students each year through school performances, student matinees, and other educational programs. And its "Ticket to Dance" initiative continues the founders' mission of ballet accessibility, providing free tickets to underserved communities in the Denver area.
Whether you live in Colorado or are just passing through, attending a Colorado Ballet performance is an experience not to be missed. Tickets are easily accessible through the company's website and other ticket platforms, with several pricing options designed to accommodate a variety of budgets. For lovers of ballet and Iive theater in general, the Colorado Ballet offers a chance to witness some of the finest dance performances in the country. It's not just a ballet company - it's a testament to the power of dance and the arts to inspire, engage, and bring a community together.