Cirque Du Soleil Crystal Tickets
No Buyer Fees Cirque Du Soleil Crystal Tickets - Up to 30% Off Compared to Competitors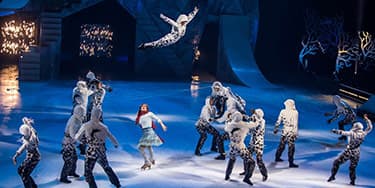 Location:
Select Location (e.g, New York)
About Cirque du Soleil - Crystal
Cirque du Soleil is a world-renowned entertainment company that has been wowing audiences for over three decades with its unique blend of acrobatics, dance, music, and theatrical storytelling. One of the company's most popular productions is Crystal, a show that combines the company's signature circus artistry with the dynamic performance of ice skating.
Crystal debuted in 2017 and has since become a fan favorite, thanks in part to its stunning visuals, captivating storyline, and incredible music. Below are some of the most popular live songs from Crystal, along with a closer look at what makes them so special.
1. "Crystal Theme"
The opening number of the show, "Crystal Theme," sets the tone for the rest of the performance. It features a haunting melody that builds in intensity, backed by the sounds of crashing waves and tinkling ice. As the music swells, the performers take to the stage, showcasing their impressive strength and agility as they skate and soar through the air.
2. "Quidam"
"Quidam" is a highlight of the show, an upbeat and energetic number that features some of the most impressive skating and acrobatics of the entire performance. The music is a blend of traditional circus sounds and modern beats, creating a thrilling and immersive experience that will have you on the edge of your seat.
3. "Sur Le Volcan"
Another standout from Crystal is "Sur Le Volcan," a hauntingly beautiful piece that showcases the performers' grace and fluidity on the ice. The music is a mix of classical and modern sounds, with sweeping strings and ethereal vocals blending seamlessly with electronic beats and percussion.
4. "Crystal Contortion"
One of the most mesmerizing acts in the show is "Crystal Contortion," which features a performer twisting and bending her body into seemingly impossible positions while balancing on skates. The music for this act is a haunting and otherworldly composition that perfectly captures the eerie, otherworldly feel of the performance.
5. "Melt"
The closing number of Crystal, "Melt" is a powerful and emotional piece that ties together all the thematic and narrative threads of the show. The music is a mix of dramatic orchestral sounds and driving rock beats, creating a thrilling and uplifting finale that will leave you breathless.
Overall, the music of Crystal is an integral part of what makes the show such a must-see experience. From the hauntingly beautiful melodies to the thrilling, heart-pumping beats, the music helps to transport audiences to a fantastical world of artistry and awe-inspiring performances.
If you're looking to experience the magic of Crystal in person, there's no better way than to secure your tickets to a live performance. With dates and venues all around the world, Cirque du Soleil makes it easy to see this breathtaking show no matter where you are. So why wait? Book your tickets today and get ready to be blown away by the spectacle and sheer artistry of Crystal.
Cirque du Soleil - Crystal History
Cirque du Soleil, founded in Quebec in 1984, is a world-renowned theatrical production company that has revolutionized the circus industry. It has created over 40 unique and awe-inspiring shows which have been performed for more than 180 million people from all corners of the world. The company has redefined the circus through its use of breathtaking acrobatics, stunning visual effects, and intricate choreography.
Cirque du Soleil has become known for its avant-garde approach to the circus, combining a variety of artistic elements such as gymnastics, dance, theater, and live music to create a truly unique entertainment experience. The company's shows often feature a central storyline or theme that is explored through a series of incredible stunts and feats of strength.
One of the more recent additions to the Cirque du Soleil lineup is the show Crystal. This show was first introduced in 2017 and has been praised for its innovative use of ice skating. The show follows the journey of a young woman named Crystal, who finds herself lost and alone in a world that has become too hectic and chaotic for her. Through her love of ice skating, she discovers the power to take control of her life and find her own path.
Crystal has received critical acclaim for its stunning choreography, intricate ice skating routines, and captivating storyline. The show is performed on a specially designed ice rink and features a mix of traditional circus acts like aerial silk and trapeze, as well as more contemporary acts like parkour and breakdancing.
As with all Cirque du Soleil shows, tickets to Crystal can be quite expensive. However, fans of the company's work know that it is worth every penny. The company has become synonymous with live theatrical events that are both visually stunning and emotionally engaging.
The history of Cirque du Soleil is a fascinating one. The company was founded by a group of street performers in Quebec in 1984, who wanted to create a new kind of circus that would be more artistic and less focused on animal performers. The company's first show was called Le Grand Tour du Cirque du Soleil and quickly became a sensation across Canada.
Over the next few years, Cirque du Soleil began to gain international recognition, performing in countries like the United States and Japan. The company's shows continued to evolve, incorporating more elaborate sets and costumes, as well as more daring and complex acrobatics.
In the late 1990s, Cirque du Soleil made a major breakthrough when it was invited to perform at the prestigious MGM Grand in Las Vegas. This marked the beginning of the company's long-standing relationship with the city, which has become a hub for its productions.
Today, Cirque du Soleil is one of the most recognizable and successful entertainment companies in the world. It has won numerous awards and accolades for its innovative approach to circus performance, and its shows continue to draw in audiences from all around the globe.
Ticket prices for Cirque du Soleil shows can vary widely depending on the location and popularity of the production. However, the company's shows are generally considered to be worth the expense, as they offer a unique and unforgettable entertainment experience that cannot be found anywhere else.
In conclusion, Cirque du Soleil's Crystal is a breathtaking example of the company's innovative and artistic approach to circus performance. As one of the most popular and successful theatrical companies in the world, Cirque du Soleil has revolutionized the circus industry and created a new kind of live entertainment that is both visually stunning and emotionally engaging. While tickets to its shows can be expensive, they offer a once-in-a-lifetime experience that is worth every penny.