Cirque Du Soleil Tickets
No Buyer Fees Cirque Du Soleil Tickets - Up to 30% Off Compared to Competitors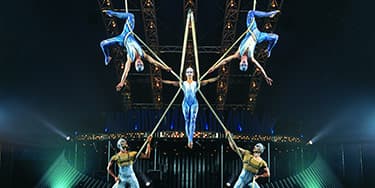 Location:
Select Location (e.g, New York)
About Cirque du Soleil
Cirque du Soleil's 'Corteo' Returning to Nutter Center
Cirque du Soleil fans in Ohio can mark their calendars for November 16th as the world-renowned entertainment company will bring its North America arena tour of "Corteo" back to Wright State University's Nutter Center. The production features a cast of 51 acrobats, musicians, singers, and actors that tell the story of a festive parade imagined by a clown. Fans can expect thrilling aerial performances and other jaw-dropping stunts that Cirque du Soleil is famous for.
Cirque Du Soleil Lets Consumers Book Show Tickets via Mobile
Cirque du Soleil has made it easier than ever for fans to book tickets to their shows with the launch of mobile booking. The company's website now features a mobile-optimized booking experience that allows users to easily navigate and purchase tickets for any Cirque du Soleil show. Additionally, the company is running mobile banner ads within Pandora's iPhone app, making it even easier for fans to book tickets on-the-go.
Running Mobile Banner Ads Within Pandora's Platform Is a Smart Move for Cirque Du Soleil
By running mobile banner ads within Pandora's platform, Cirque du Soleil is tapping into a vast audience of music lovers who are likely to be interested in their shows. Pandora is one of the most popular music streaming services in the world, with millions of users tuning in every day. The banner ads make it easy for users to click through and purchase tickets to a Cirque du Soleil show, allowing the company to reach a wider audience and increase ticket sales.
Cirque du Soleil Has Big Discounts on Its Most Popular Las Vegas Shows. How to Get the Deal
If you're planning a trip to Las Vegas and want to catch a Cirque du Soleil show, now is the time to book. The company is offering up to 30% off tickets for performances in Las Vegas through the end of the year. The discount applies to tickets purchased on Cirque du Soleil's website for shows scheduled through Dec. 20th. With six ongoing productions in Las Vegas, including "Michael Jackson ONE," "The Beatles LOVE," and "O," there's sure to be a show that appeals to everyone.
Cirque du Soleil: KOOZA
Cirque du Soleil fans in Toronto can get excited as the upcoming event, "KOOZA," is set to take place from April 7th to June 18th, 2023. The show tells the story of The Innocent, a melancholy loner in search of his place in the world, through jaw-dropping acrobatics and clowning. With stunning visuals and heart-stopping stunts, "KOOZA" is a must-see for anyone who loves Cirque du Soleil's unique brand of entertainment.
Cirque du Soleil History
Cirque du Soleil is a Canadian entertainment company that produces some of the most unique and creative live theater events in the world. Founded in 1984 by Guy Laliberté and Daniel Gauthier in Quebec, Canada, Cirque du Soleil has since become a household name, recognized for its artistic, acrobatic and theatrical productions that thrill audiences around the globe.
Unlike traditional circuses, Cirque du Soleil's shows are not just about performing stunts and tricks. Instead, they aim to transport the audience into another world, one that is filled with magical scenery, music, and emotions. The shows are a breathtaking combination of acrobatics, gymnastics, music, and theater, all blended together to create a unique and memorable experience.
Over the years, Cirque du Soleil has produced more than 40 different shows, each with its own distinct theme and storyline. Some of their most iconic productions include "Mystère," "O," "KA," and "Love," which pay tribute to the music of The Beatles. Each show features a talented cast of performers and musicians who have spent countless hours perfecting their craft to create a truly unforgettable experience.
One of the unique features of Cirque du Soleil is that they have always tried to push the boundaries of what is possible in live theater events. From their use of innovative stage technology to their incredible feats of athleticism, Cirque du Soleil has always aimed to create shows that are both visually stunning and emotionally moving.
In addition to their shows, Cirque du Soleil has also become known for their elaborate sets and costumes. Every aspect of their productions is carefully crafted to create a specific atmosphere, whether it's a mystical underwater world or a futuristic cityscape.
Live theater events like Cirque du Soleil are not just about the performers, however. They are also about the audience, who play an active role in the overall experience. For many people, attending a Cirque du Soleil show is a once-in-a-lifetime opportunity, something that they will always remember and treasure.
Tickets for Cirque du Soleil shows can be difficult to come by, due to the high demand for their performances. However, for those who are lucky enough to secure a ticket, the experience is truly unforgettable. From the moment the lights go down to the final bow, Cirque du Soleil shows are an immersive experience that transports the audience to another world.
In recent years, Cirque du Soleil has faced some financial difficulties due to the COVID-19 pandemic, which has forced the company to cancel many of its shows. However, the company is slowly starting to bounce back, with plans to resume some of its productions in the near future.
Despite the challenges facing the live theater industry, Cirque du Soleil remains a shining example of what is possible when creativity, skill, and passion come together. Their shows are not just entertainment, but works of art that inspire and move audiences around the world. The company's rich history and ongoing commitment to pushing the boundaries of live theater events make them a true icon of the industry, and a treasured experience for anyone lucky enough to attend one of their shows.