Cirque Du Soleil Drawn To Life Tickets
No Buyer Fees Cirque Du Soleil Drawn To Life Tickets - Up to 30% Off Compared to Competitors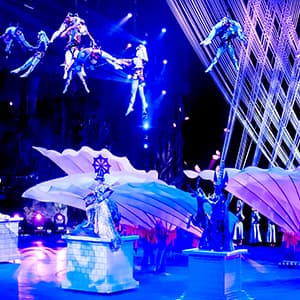 Location:
Select Location (e.g, New York)
Cirque du Soleil - Drawn To Life Cities & Venues
About Cirque du Soleil - Drawn To Life
Cirque du Soleil, the world-renowed theatrical company known for its high-flying acrobatic performances, has brought a groundbreaking show to life with their newest production, Drawn To Life. This magical storytelling experience combines the incomparable artistry of Cirque du Soleil with the enchanting animation of Disney. A key component of this thrilling spectacle is the captivating original score, which features some of the most popular live songs performed by Cirque du Soleil.
In the world of live theater, the power of music is unquestionable. It sets the mood, drives the narrative, and adds an extra layer of emotional resonance to the performance. With Cirque du Soleil's Drawn To Life, the live songs are a critical part of the storytelling process, beautifully intertwined with the jaw-dropping acrobatics and animated storytelling.
One of the highlights of the show is the anthem-like song "Drawing Power," which marries the grandeur of the Cirque du Soleil with the heartwarming spirit of Disney. The stirring melody and uplifting lyrics inspire audiences to believe in the power of imagination and creativity. Every time this song is performed live, the theater fills with a palpable energy, the kind that leaves you on the edge of your seat, and is a clear testament to the resonating power of live performances.
The second standout track is "The Animator's Dance," a show-stopping number that celebrates the transformative power of art. With its upbeat rhythm, it propels the show's narrative while showcasing the awe-inspiring talent of the Cirque du Soleil performers. The live performance of this song is simply mesmerizing, a harmonious blend of music, dance, and acrobatics that leaves audiences spellbound.
Another classic, "The Girl And The Moon," beautifully encapsulates the emotional heart of the show with its tender melody and poignant lyrics. This song, performed live, adds a layer of depth to the story and evokes a wide range of emotions, making it one of the standout performances in Drawn To Life.
Experiencing these songs during the live performances of Cirque du Soleil's Drawn To Life is unlike listening to them on a soundtrack. The amalgamation of the music with the visual storytelling, the acrobatics, and the overall ambiance creates an immersive experience that is as magical as it is unforgettable.
Live events like these are likely to sell out quickly, so it's essential to secure your tickets well in advance— whether it's for a special occasion or just a night out in town. Tickets for Drawn To Life, like any Cirque du Soleil show, offer more than just admission to a performance. They are essentially your passport to a world of enchantment, a sensory extravaganza that you'll remember for a lifetime.
So, if you're looking for an unforgettable live event that combines breathtaking acrobatics, captivating storytelling, and a world-class musical score, Cirque du Soleil's Drawn To Life is the show for you. The popular live songs, performed by incredibly talented artists, bring the magic of this unique story to life and underscore why Cirque du Soleil remains a leader in live theatrical entertainment. Be sure to check the availability of tickets and prepare to be drawn into a world of creativity, imagination, and fantastic live music.
Cirque du Soleil - Drawn To Life History
Cirque du Soleil's "Drawn to Life" is a mesmerizing and unforgettable theatrical production that represents the specificity of live theater events. Its history is the epitome of theatrical evolution, combining elements of circus arts and street performance with a substantial amount of theatrical innovation and creativity.
Cirque du Soleil, French for "Circus of the Sun", was founded in 1984 in Montreal, Canada, by two former street performers, Guy Laliberté and Gilles Ste-Croix. Over the years, the company has grown into one of the biggest and most renowned theatrical producers in the world, performing to more than 180 million spectators in over 450 cities on six continents. With each new performance, Cirque du Soleil charms the audience by pushing the boundaries of theatrical and physical ability.
The show "Drawn to Life" is an artistic collaboration between Cirque du Soleil and Disney, and represents the evolution of Cirque's creativity and theatrical innovation. It is Cirque du Soleil's 50th original production since 1984, and the first time Disney has co-produced a show with the troupe. This partnership brings to life an exciting new world inspired by Disney's tradition of animation and Cirque's distinct imaginative touch.
"Drawn to Life" is written and directed by Michel Laprise and Fabrice Becker, and the story revolves around a young girl named Julie, whose father, a Disney animator, has passed away. Julie discovers a series of her father's unfinished animations. As she dives into his work, Julie's drawings come to life, embarking her on an imaginative journey filled with childhood Disney memories.
The show features a cast of 65 artists and is a celebration of life, rich in its depiction of change, the passage of time, and the value of remembering. The performance showcases Cirque du Soleil's signature blend of acrobatics, dance, music, and stunning visual effects, combined with the magic of Disney storytelling and animation.
When it comes to 'live theater events and tickets', buying a ticket to "Drawn to Life" could be one of the most worthwhile purchases for theater enthusiasts. Watching this show is like stepping into a new realm where imagination is boundless, and the line between reality and fantasy blurs. The immersive experience of this live show is something that can't be replicated by any recording or live stream. Every moment on stage is fleeting and unique, adding to the beauty and allure of live theater.
Cirque du Soleil performances offer an escape from the ordinary, delivering audiences into a world of creativity, wonder, and awe. Their shows, especially "Drawn to Life," symbolize not just the sheer power of human physical performance, but also the depth and expanse of artistic expression.
Tickets for "Drawn to Life" are available via the Cirque du Soleil website or through authorized ticket vendors. Prices vary depending on the seats selected, with VIP options offering additional perks like exclusive merchandise and behind-the-scenes tours.
In conclusion, "Drawn to Life" encapsulates both the history and the future of live theater events. It's a testament to Cirque du Soleil's pioneering spirit and their unwavering commitment to creating immersive, imaginative, and captivating performances that have redefined the concept of traditional circus and live theater.