Caitlyn Smith Tickets
No Buyer Fees Caitlyn Smith Tickets - Up to 30% Off Compared to Competitors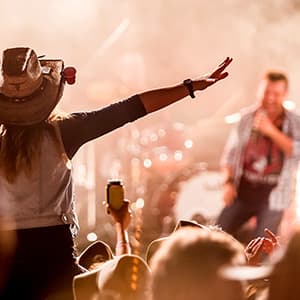 Location:
Select Location (e.g, New York)
Caitlyn Smith Events Nearby
About Caitlyn Smith
Caitlyn Smith, the celebrated American country musician from Minnesota, has gained recognition far and wide for her soulful and powerful live performances. Known for her stunning vocals and profound songwriting, Smith's live renditions of her most popular songs have left a significant impact on her fans worldwide and continue to be a major pull for live events and ticket sales.
Her song "Starfire", the title track from her debut album, is a fan favorite and a must-listen at live concerts. What makes the live rendition of this song special is the sheer emotional depth and vocal strength that Smith brings to the table. The energy she emits when performing "Starfire" is palpable, with fans often scrambling for tickets, eager to experience the raw and unfiltered emotion that underlines her performance.
Another crowd-pleaser is "This Town is Killing Me," a song that is deeply personal to Smith. It details her struggle with the music industry, a narrative that resonates with many. When performed live, Smith's emotive rendition of the song strikes a chord with her audience. The power and pathos in her voice add an extra layer of compassion and realism, making it a hot ticket for those who can appreciate the heartache and triumph of a musician's journey.
"Before You Called Me Baby" is another top-rated live song which is famed for her incredible vocal range she displays. The song, known for its soulful notes and tender lyrics, showcases Smith's ability to convey a captivating and heartfelt story through her music. Fans have been known to flock to live events to hear Smith perform this song, illustrating how her talent sparks a buzz in ticket sales.
Smith's cover of Coldplay's "The Scientist" is another stand-out live performance. Infusing the popular rock song with her unique country and soul styling, Smith's rendition of "The Scientist" often leaves audiences mesmerised. This demonstrates her ability to reinvent and deliver classics in her own unique style. The anticipation of such unexpected performances keeps fans on their toes and undoubtedly drives ticket sales for her concerts.
Additionally, Smith's performance of "Long Time Coming" always manages to stir the crowd. Performed live, this song is a testimony to Smith's growth as an artist and her determination to stay true to herself despite the industry's pressures. The authenticity in her live performances clearly resonates with her fans, making it a highlight of her concerts and upping the demand for tickets to her shows.
In conclusion, Caitlyn Smith's popularity and demand are not merely due to her exceptional songwriting and singing capabilities, but are also highly attributed to her honest and powerful live performances. Her allure lies in her ability to connect with the audience on a personal level, making her songs resonate deeply with fans. This emotional connection and the anticipation of her live renditions undeniably create a high demand for live events and tickets. Whether it's her own profound creations or her unique covers of popular songs, Smith's concerts are a testament to her talent and the special bond she shares with her fans.
Caitlyn Smith History
Caitlyn Smith, born and raised in Cannon Falls, Minnesota, is a critically acclaimed singer and songwriter who has taken the American music scene by storm. What sets Smith apart is not just her breathtakingly powerful voice or her exceptional musical talent but her ability to connect with her audience at live concerts, which has carved out a unique place for her in the industry.
Smith's musical journey commenced as a teenager when she started out as a country singer. Gifted with an innate songwriting prowess, she penned songs for renowned artists such as Dolly Parton, Garth Brooks, and Meghan Trainor. Despite her early success as a songwriter, Caitlyn never gave up on her dream of becoming a performing artist. She took her first step towards fulfilling this dream with her debut EP 'Everything to You' in 2014, but it wasn't until her 2018 album, 'Starfire,' that she truly made her mark.
Fans and critics alike have been drawn to Smith's compelling live performances. Her ability to captivate a crowd, evident in her sold-out shows, has led to increasing demand for her concert tickets. This stems from Smith's gift of combining her raw, emotional lyricism with her outstanding vocal range, creating an unforgettable concert experience. Her live performances are known for their vibrant blend of country, pop, and rock 'n roll, making her concerts a magnet for a diverse audience.
One of the highlights of Smith's career came in 2018 when she made her national TV debut on 'The Tonight Show Starring Jimmy Fallon,' a testament to her rapidly growing popularity. This was followed by a nationwide tour, "Starfire," which was celebrated with sold-out shows at many iconic venues.
Smith's concert tickets are hot commodities. From intimate acoustic shows to full-blown belt-it-out performances at packed venues, her concerts have been applauded for their authentic, high-energy atmosphere. In 2019, she embarked on an international tour, demonstrating her global appeal. Despite the diverse settings and cultures, she managed to unite her audiences through her powerful music.
Moreover, Smith's engaging stage presence contributes to the extraordinary experiences at her concerts. It is common for her to share anecdotes and personal stories behind her songs, making her performances even more intimate and genuine. Smith is known to leave her heart on the stage, giving everything to her performances. This dedication is palpable in the audience's responses, evident in sold-out shows and high-demand concert tickets.
Notably, the Covid-19 pandemic reshaped the live music scene, testing the adaptability and resilience of artists. Smith effectively pivoted to virtual concert events, keeping her community of fans connected through her music during these challenging times.
In conclusion, Caitlyn Smith's journey from a small-town girl to a celebrated artist has been nothing short of remarkable. Her ability to captivate audiences with her passionate performances, imbued with her authentic songwriting, makes her concerts must-attend events. Whether it's the rush of being part of a live audience or the convenience of a virtual concert, securing a ticket to one of Caitlyn Smith's performances is sure to provide a unique and unforgettable musical experience.