Brandi Carlile Tickets
No Buyer Fees Brandi Carlile Tickets - Up to 30% Off Compared to Competitors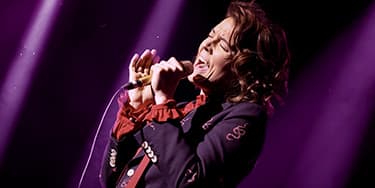 Location:
Select Location (e.g, New York)
Brandi Carlile
is not currently performing
About Brandi Carlile
Famed American singer, Brandi Carlile, is making headlines with a concert-packed lineup and a well-deserved award. Notably, Carlile will be joining Pink, along with Grouplove, Pat Benatar, and Neil Giraldo for an electrifying Summer Carnival Tour in 2023. This dynamic group of musicians is expected to attract fans from across the globe, with ticket prices ranging between $50 to $200, depending on the seating section.
Fans are particularly eager for Carlile's performance at the Hollywood Bowl on October 14th. A sweepstakes is currently underway, offering fans a chance to win two tickets to this highly anticipated show. Those interested in attending this or any of the other concerts can purchase tickets on Ticketmaster or Live Nation. Fans in Chicago may be out of luck as tickets have already sold out, however, there are still available seats for the Los Angeles and Seattle shows.
In addition to these impressive tour dates, Carlile recently displayed her organization and management prowess by headlining and organizing a weekend of shows at the Gorge. Her phenomenal performance at this event left audiences and critics alike calling for a revival of Joni Mitchell and the Lilith Fair.
The versatile artist is also all set to perform at the "Can't Cancel Pride 2023" concert. An initiative by Procter & Gamble and iHeartMedia, this event will also feature other top-notch artists such as Adam Lambert and Ciara.
Adding another feather to her cap, Carlile will be honored with the Elton John Impact Award for her humanitarian work through the Looking Out Foundation. This well-deserved recognition celebrates Carlile's dedication to affecting positive change on a global scale.
As if this wasn't enough, Carlile will be headlining the Out & About Festival at Wolf Trap in Vienna, Virginia on June 24 and 25. The lineup is packed with talented artists, including Rufus Wainwright, Yola, Jake Wesley Rogers, and Alphabet Rockers on Saturday, and Brandy Clark, Lucius, Celisse, and Oh He Dead on Sunday.
With her powerhouse vocals and raw talent on full display, audiences can expect to hear popular tracks like "The Joke," "The Story," and "Party of One." Known for her exceptional energy and profound emotional connection with the audience, a Brandi Carlile concert promises an unforgettable night of live entertainment.
There's more to look forward to in 2024 as Carlile is also bringing back her 'Girls Just Wanna Weekend.' Set to host its fifth iteration in January 2024, this concert vacation has been an annual favorite among fans.
All in all, it's an exciting time to be a Brandi Carlile fan. As she continues to make waves in the live entertainment industry, remember to grab your tickets before they sell out!
Brandi Carlile History
Brandi Carlile is an acclaimed American singer-songwriter known for her rootsy, folk-rock sound that has captured countless audiences worldwide. Born on June 1, 1981 in Ravensdale, Washington, Carlile has been making a significant mark in the music industry since her eponymous debut album in 2005. Her career is closely associated with heartwarming live concerts, a testament to her exceptional talent and captivating stage presence.
Carlile's music journey is an illustration of dedication and perseverance. She dropped out of high school to pursue her music career, performing in Seattle music clubs with twin brothers, Tim and Phil Hanseroth. The trio's harmonious collaboration has since become the foundation of what makes her concerts so engaging and unforgettable.
Carlile's live concerts are a testament to her craft. They are always loaded with an unmistakable energy, brought to life through her emotive performances and storytelling, bringing audiences on a journey with her songs. Her voice, both powerful and vulnerable, creates a unique connection between her and the audience, making every concert a memorable and personal experience.
Her concerts offer a unique blend of raw emotion and masterful musicianship. Whether it's an intimate acoustic set or a full band performance, Carlile delivers something for every music lover. She and the Hanseroth brothers have perfect harmony, both in their songs and their dynamic on stage, which further enhances the allure of their performances.
Carlile burst into the mainstream in 2007 with her hit song "The Story," which has been featured in various advertising campaigns and television shows. Since then, her live concerts have grown in scale, attracting larger audiences and selling out prestigious venues across the globe.
Her first major concert event came in 2010 when she headlined a show at the revered Red Rocks Amphitheatre in Colorado, marking a significant milestone in her career. Since then, she has returned numerous times to a venue that perfectly complements her unique blend of folk, rock, and country music.
In 2019, Carlile reached new heights in her career, winning three Grammy Awards for her album "By The Way, I Forgive You." The album's success catapulted her into the limelight and increased demand for her live performances.
Her concert tickets are highly sought after, often selling out within minutes of release. Fans are eager to experience her music firsthand, drawn by her reputation as an incredible performer. Beyond her music, fans are drawn to Carlile's authenticity and her open-hearted approach to her performances, making her live shows a must-see.
Besides her own concerts, Carlile has made her presence felt at various music festivals around the globe, delivering electrifying performances and sharing the stage with music legends like Elton John and Pearl Jam.
In 2020, despite the challenges of the COVID-19 pandemic, Carlile adapted by offering virtual concerts. Fiercely dedicated to her fans, she continues to strive to connect and share her music, reminding us of the power of music in bringing people together.
In conclusion, Brandi Carlile's history and impact in the music industry, particularly with her live concerts, can't be overstated. Her passion and authenticity shine through in every performance, making her concerts a cherished experience for fans. Whether it's in a small intimate setting or a major concert event, Carlile's magic never wanes, making her tickets a prized possession for music lovers worldwide.