Blippi Live Tickets
No Buyer Fees Blippi Live Tickets - Up to 30% Off Compared to Competitors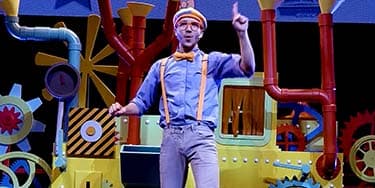 Location:
Select Location (e.g, New York)
About Blippi Live
Blippi, the popular children's entertainer, has taken the world by storm with his catchy and educational songs. His live shows have become a sensation, and fans eagerly anticipate his performances across the country. From his silly antics to his lovable personality, Blippi has proven to be a hit with kids and adults alike.
One of his most popular live songs is "The Excavator Song." This song has children singing along, mimicking the hand motions that Blippi demonstrates on stage. As Blippi sings about the various parts of the excavator and what it does, kids learn about the construction vehicle in a fun and engaging way. The "Excavator Song" is a fan favorite and is often the highlight of Blippi's live show.
Another favorite amongst fans is "The Fire Truck Song." Kids love the high-energy beat of the song and the fun hand motions that accompany it. As Blippi sings about the fire truck and all the important tasks it performs, children learn about fire safety and the importance of firefighters. The "Fire Truck Song" has become a staple at Blippi's live shows, and fans can't help but dance along to the catchy tune.
Blippi's live performance of "Monster Trucks" is another hit with kids. The song features Blippi singing about the different types of monster trucks and their unique features. Kids love the exciting beat and silly lyrics, and Blippi's energetic performance gets the crowd pumped up. The "Monster Trucks" song is a crowd favorite and is often requested by fans at Blippi's live shows.
In addition to his popular songs, Blippi puts on an unforgettable live show. With his colorful stage set-up and engaging props, he keeps kids entertained from start to finish. Blippi's unique brand of edutainment has made him a favorite among parents who appreciate the educational aspect of his shows. Blippi's live shows have been praised for their ability to teach children in a way that is both fun and effective.
Blippi's popularity has led to a high demand for tickets to his live shows. Parents everywhere are eager to bring their children to see Blippi in person, and tickets to his shows often sell out quickly. Fans who are lucky enough to score tickets to his live shows can expect an exciting and unforgettable experience that their children will cherish for years to come.
In conclusion, Blippi's live shows and popular songs have made him a beloved children's entertainer. His ability to merge education and entertainment has earned him a loyal following and tickets to his live shows are in high demand. From "The Excavator Song" to "The Fire Truck Song," Blippi's catchy tunes have become fan favorites and are often the highlight of his live shows. Parents looking for a fun and educational experience for their children should be sure to catch Blippi's next live performance.
Blippi Live History
Blippi Live is a live theater event that has been captivating audiences across the United States since its inception in 2019. The brainchild of Stevin John, Blippi Live is an interactive show that brings the world of Blippi to life, engaging children and adults alike. If you're a fan of Blippi or have children who love the character, attending a Blippi Live show is an experience you won't want to miss.
For those who are unfamiliar with Blippi, the character was created by Stevin John in 2014. Initially, the character was just a hobby for John, who created and published videos on YouTube. However, the character quickly gained popularity, with children and parents alike enjoying the educational and entertaining content.
Blippi is a bright and colorful character who teaches children about the world around them in a fun and engaging way. Through songs, dances, and exploration, Blippi helps children learn about everything from construction equipment to the human body. The character has become a beloved figure for many children, and Blippi Live provides a chance to see the character in person.
The first Blippi Live show took place in 2019, and the response was overwhelmingly positive. Children and parents alike were thrilled to see the character come to life on stage, and the show sold out quickly. Since then, Blippi Live has expanded, with shows across the United States.
One of the things that sets Blippi Live apart from other live theater events is its interactivity. Children are encouraged to sing, dance, and participate in the show, making it a truly immersive experience. The show is also designed to be sensory-friendly, ensuring that all children can enjoy the experience.
Tickets for Blippi Live events can be purchased online or through authorized ticket outlets. It's important to purchase tickets early, as shows often sell out quickly. Ticket prices vary depending on the venue and location, but are generally affordable for families. In addition, VIP packages are available, which include a meet and greet with the character and other special perks.
Blippi Live has quickly become a must-see event for children and families across the United States. Whether you're a longtime fan of the character or are just discovering him for the first time, attending a Blippi Live show is a joyful experience. With its focus on interactivity and engagement, Blippi Live is a show that will leave children with memories that will last a lifetime.