Black Veil Brides Tickets
No Buyer Fees Black Veil Brides Tickets - Up to 30% Off Compared to Competitors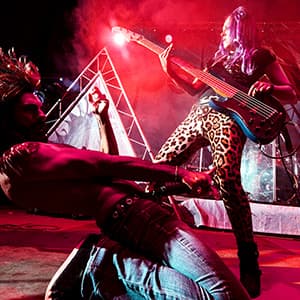 Location:
Select Location (e.g, New York)
Black Veil Brides
is not currently performing
About Black Veil Brides
Black Veil Brides fans were recently disappointed to learn that lead singer Andy Biersack has been diagnosed with COVID-19. As a result, the band will be missing multiple shows on their current tour with Ice Nine Kills and Motionless In White. While the exact number of shows they will be missing is unclear, fans are hoping for a speedy recovery for Biersack.
This news comes as a shock to fans who have been eagerly anticipating the band's live performances. Black Veil Brides are known for their high-energy shows and passionate fanbase, and their current tour was expected to be no exception.
Despite the setback, the band remains dedicated to their fans and their music. They have been keeping fans updated on Biersack's condition through their social media channels and have expressed their gratitude for the outpouring of support from their fans.
For those who have purchased tickets to see Black Veil Brides on their current tour, refunds will be available for the canceled shows. The band has encouraged fans to stay safe and follow public health guidelines to help prevent the spread of COVID-19.
While the current situation is undoubtedly disappointing for fans and the band alike, Black Veil Brides are sure to bounce back stronger than ever once Biersack has fully recovered. In the meantime, fans can stay connected with the band through their social media channels and look forward to future performances.
Black Veil Brides History
Black Veil Brides is an American rock band that was formed in 2006 in Cincinnati, Ohio. The band consists of members Andy Biersack, Ashley Purdy, Jake Pitts, Jinxx, and Christian "CC" Coma. The band has gained a significant following over the years and has become a popular name in the rock music scene.
Black Veil Brides was initially formed by Andy Biersack, who was inspired by bands like Kiss and Mötley Crüe. He wanted to create a band that would put on an entertaining live show and that would be reminiscent of the glam rock bands of the 80s. The band's name was inspired by a religious sect called the Order of the Black Veil, which was known for its strict adherence to traditional values and beliefs.
The band released their debut album, We Stitch These Wounds, in 2010, which was followed by Set the World on Fire in 2011. Both albums were well-received by fans and critics alike and helped to establish Black Veil Brides as a rising force in the rock music industry.
Since then, the band has released several more albums, including Wretched and Divine: The Story of the Wild Ones and Vale. Their music has been described as a blend of rock, metal, and punk, with influences from classic rock bands of the 70s and 80s.
One of the things that has really helped to set Black Veil Brides apart from other bands is their live shows. The band is known for its energetic and theatrical performances, with each member dressed in elaborate costumes and makeup. They often incorporate pyrotechnics, props, and other special effects into their shows, which help to create a truly immersive experience for fans.
As a result, Black Veil Brides concerts have become incredibly popular, with fans flocking to see the band perform live. Tickets for their shows can sell out quickly, with fans eager to see the band's iconic live performances in person.
In addition to their live shows, Black Veil Brides has also become known for their involvement in various charitable causes. They have supported organizations like the It Gets Better Project, which aims to help LGBT youth overcome bullying and discrimination, and the Grammy Foundation's MusiCares program, which provides financial assistance to musicians in need.
Overall, Black Veil Brides has come a long way since their formation in 2006. They have become one of the most successful and influential rock bands of their generation, with a dedicated fan base and a reputation for putting on unforgettable live shows. For fans, there is nothing quite like experiencing the energy and excitement of a Black Veil Brides concert firsthand, and tickets for their shows are always in high demand.