Billy Strings Tickets
No Buyer Fees Billy Strings Tickets - Up to 30% Off Compared to Competitors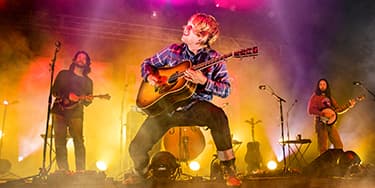 Location:
Select Location (e.g, New York)
About Billy Strings
As one of the breakout stars of bluegrass music in recent years, Billy Strings has become synonymous with high-energy live performances that are celebrated by fans and critics alike. With a passion for traditional bluegrass music and a fearless approach to pushing the genre to new heights, the Michigan-born musician has quickly established himself as one of the most exciting and innovative artists on the scene today. Here, we take a look at some of Billy Strings' most popular live songs, and consider why they have become staples of his electrifying live shows.
"Turmoil & Tinfoil" - This title track from Billy Strings' 2017 album has become a fan favorite for its haunting lyrics and soaring instrumentation. The song is a perfect showcase for the musician's virtuosic guitar playing and his ability to blend traditional bluegrass elements with more modern influences. It's a perfect representation of the unique sound that has made Strings such a popular live act, and is sure to get audiences on their feet and dancing.
"Meet Me at the Creek" - Another standout track from the "Turmoil & Tinfoil" album, "Meet Me at the Creek" is a high-energy romp that showcases Strings' ability to write catchy, infectiously fun tunes. With a driving beat, soaring melodies, and playful lyrics, this song is sure to get audiences moving and singing along. It's a perfect example of how Strings is able to take classic bluegrass sounds and infuse them with contemporary energy to create something truly special.
"Dust in a Baggie" - Perhaps the song that has become synonymous with Billy Strings' live shows, "Dust in a Baggie" is a haunting and complex masterpiece that showcases the musician's songwriting prowess. The song tells the story of a man who becomes addicted to methamphetamine, and the devastating impact it has on his life. Strings' intricate guitar work and emotive vocals bring the story to life, and the song has become a rallying cry for those affected by addiction.
"Taking Water" - A newer addition to Billy Strings' live setlist, "Taking Water" is a song that reflects on the challenges and triumphs of life on the road as a touring musician. With its wistful melody and poignant lyrics, the song is a reminder of the sacrifices that artists make in pursuit of their art, and the resilience and perseverance required to succeed in the music industry. It's a song that is sure to resonate with anyone who has ever pursued their dreams, and is quickly becoming a fan favorite.
So why are these songs so popular at Billy Strings' live shows, and why are tickets to see him in concert in such high demand? It's simple - Billy Strings is an artist who is dedicated to pushing the boundaries of bluegrass music and creating a live experience that is both authentic and exhilarating. With his guitar wizardry, dynamic stage presence, and heartfelt songwriting, he has tapped into something truly special, and fans can't get enough. If you haven't seen Billy Strings live yet, be sure to grab your tickets as soon as possible - you won't be disappointed.
Billy Strings History
Billy Strings is an American bluegrass musician and songwriter hailing from Lansing, Michigan. He has become a rapidly rising figure in the bluegrass music scene in recent years, attracting a loyal fan base with his virtuosic musicianship and electrifying live performances. For fans of traditional bluegrass music, Billy Strings is truly a force to be reckoned with.
Born William Apostol, Billy Strings grew up in a musical family and began playing guitar at a young age. He was heavily influenced by traditional bluegrass music and soon began honing his skills as a musician. His intense dedication to his craft eventually paid off, and he began winning national guitar competitions in his early twenties.
However, Billy Strings was not content to simply be a successful guitar player. He wanted to create his own music and carve out his own space in the bluegrass world. In 2017, he released his debut album "Turmoil & Tinfoil," which quickly garnered critical acclaim and cemented his place as a rising star in the bluegrass scene.
Since then, Billy Strings has continued to push the boundaries of traditional bluegrass music, incorporating elements of rock, country, and even psychedelic music into his sound. He has released three more albums since his debut, with each one showcasing his growth as a songwriter and performer.
One of the things that sets Billy Strings apart from other bluegrass musicians is his undeniable talent as a live performer. His shows are known for their high energy and electrifying performances, with Billy and his bandmates pushing the limits of what is possible on their instruments. It is no surprise, then, that Billy Strings' live concerts events have become some of the hottest tickets in the bluegrass world.
Fans who attend a Billy Strings concert can expect an unforgettable experience. From the opening notes of the first song to the final encore, the energy never wanes, and the audience is left feeling energized and inspired. Billy Strings is a master of his craft, and his live performances serve as a testament to his dedication and talent.
In recent years, Billy Strings has become a fixture on the festival circuit, performing at some of the biggest bluegrass and folk festivals in the world. His electrifying performances have won over legions of new fans, and his popularity shows no signs of slowing down.
For fans who want to catch Billy Strings live in concert, tickets can be hard to come by. His shows regularly sell out, and fans are advised to purchase tickets well in advance. However, for those lucky enough to snag a ticket, the experience is well worth the effort.
In conclusion, Billy Strings is a rising star in the bluegrass world, with a talent for music and a captivating stage presence. His live concert events are some of the hottest tickets in the business, and fans who attend his shows are treated to an unforgettable experience. With a bright future ahead of him, Billy Strings is sure to continue pushing the boundaries of traditional bluegrass music for years to come.