Austin French Tickets
No Buyer Fees Austin French Tickets - Up to 30% Off Compared to Competitors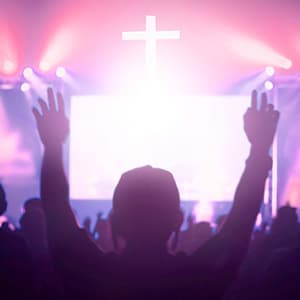 Location:
Select Location (e.g, New York)
Austin French
is not currently performing
About Austin French
Austin French, a rising Christian music artist, has stirred souls and lit up stages with his invigorating live renditions of some of his most popular songs. With a voice that carries faith and hope, French's live performances are profoundly impacting, leaving audiences feeling uplifted and inspired. Some of his most popular songs, such as "Freedom Hymn," "Born Again," and "Why God," have become thrilling highlights during his live shows.
"Freedom Hymn" is perhaps French's most recognizable song and is a fan-favorite during his live performances. The song speaks about the freedom that comes from knowing Christ and surrendering oneself to His love. French typically imbues his renditions of "Freedom Hymn" with an undeniable passion and energy that reverberates throughout his live events. During these captivating moments, one can often find event attendees on their feet singing along, moved by the empowering lyrics and French's compelling vocals.
Another song that has become a staple at French's concerts is "Born Again." This song encapsulates French's personal testimony of faith and transformation. The powerful lyrics that speak of a life changed through divine intervention connect deeply with his audiences. When performed live, "Born Again" becomes an inspiring anthem, with French often encouraging the crowd to join him in song. This interactive element of the performance makes it a uniquely engaging experience for those in attendance.
French's song "Why God" is a poignant exploration of loss, pain, and uncertainty. French wrote this touching track after the tragic school shooting in Parkland, Florida. During live performances, he typically delivers "Why God" with an incredible degree of vulnerability, turning the stage into a space of shared consolation and faith. The raw emotions he expresses during these performances often strike chords with attendees, resulting in a potent and cathartic live music experience.
As French continues to grow in popularity, the demand for his live shows and tickets has significantly increased. In these times of online purchasing, fans have the convenience of buying their tickets at the click of a button. Most tickets for French's live events are available on his website and other notable ticketing platforms. Pre-sale tickets often get snapped up quickly due to the artist's growing fan base, emphasizing the need for fans to stay updated about his tour schedules.
In addition, VIP ticket options are usually available for fans who desire a more intimate experience during French's live events. VIP packages often include benefits such as early entry into the venue, preferred seating, and occasionally, meet-and-greet opportunities with French himself. These VIP tickets allow fans to have an immersive experience beyond just the live performance, making the event all the more memorable.
From intimate worship sessions to major music festivals, Austin French's live performances have become sought-after events. His unique blend of faith-filled lyrics, captivating vocals, and engaging live renditions of his most popular songs make every concert a stirring spiritual occasion. As French continues to touch hearts with his music, fans across the globe eagerly anticipate his live events and the opportunity to secure tickets to these remarkable shows.
Austin French History
Austin French is a contemporary Christian music artist known for his soulful voice and uplifting lyrics. Born in Cordele, Georgia, in 1994, French's passion for music was apparent at an early age. He began singing in church and eventually started writing and performing his own songs during high school. However, it's his history with live concert events and ticket sales that have truly marked French's career.
Austin French came into the national spotlight when he became a contestant on the ABC show, "Rising Star". His awe-inspiring performances got him to the finals, placing him as the runner-up. This exposure catapulted him into the music industry and he began performing in numerous concerts across the country. Interestingly, it was his knack for turning his concert events into an incredible spiritual journey that quickly won the hearts of many, leading to consistently sold-out tickets.
Following his success on "Rising Star", French became worship pastor at The Avenue Church in Delray Beach, Florida. In 2017, he was signed by Fair Trade Services and moved to Nashville, Tennessee, a city known as the world's music capital. His debut single, "Freedom Hymn," reached the top 10 Billboard Christian Airplay charts, reflecting his deep roots in church gospel and his influence from artists such as TobyMac and Crowder.
From 2018 onward, Austin French has been touring in various parts of the United States, performing live at both small and large venues. His live concerts are more than just music performances. They are intimate gatherings where French shares his faith and passion, drawing in the audience with his powerful vocals and emotionally charged lyrics. These gatherings have been so influential that tickets to his shows are often sold out weeks in advance.
In 2019, French embarked on his first headlining tour, "The Wide Open Tour," which spanned across multiple states. This tour saw him perform some of his biggest hits, including "Born Again" and "Why God". These performances reaffirmed his status as a bona fide Christian music star, with sold-out tickets at almost every venue.
Moreover, French's performances are not limited to concert venues. He has also performed at many music festivals, including notable Christian music festivals like the Spirit Song Festival and the SoulFest. Tickets to these events are highly sought after, and French's electrifying performances continue to draw large crowds.
Austin French's concerts are renowned for their immersive experience that engages the audience both lyrically and musically. The harmonious blend of his vocals with the crowd's singing enhances the power of his performances, making each concert an unforgettable event. This connection with his audience is one reason why tickets to Austin French's concerts are in high demand.
In conclusion, Austin French's journey is a testament to his immense talent and dedication to his craft. His live concert events and ability to sell tickets hinge on his meaningful lyrics and authentic performances that resonate with his audience, both on a musical and spiritual level. As he continues to make his mark in the Christian music industry, one thing is clear: seeing Austin French live in concert is a soul-stirring experience worth every penny of the ticket price.